Ryan Pinkston has been a Redskins fan longer than he's been alive.
"I was actually going to games in my mom's stomach before I was born," the actor, who stars in the upcoming TBS sitcom "Clipped," said jokingly. 
"I don't think I ever really had a choice not to be a Redskins fan," he said. "My grandfather was a season ticket holder. When he passed away he kind of left them to my parents. I've been going ever since I can remember...I love it. It affects me more than any sport I've ever watched. I have such a connection to the team and I look forward to it every year."
If you don't recognize Pinkston, who was born in Silver Spring, Md., and has since moved to Los Angeles, he got one of his first breaks playing a prankster on Ashton Kutcher's hidden camera show "Punk'd."  He made a cameo in the movie "Bad Santa" and has since had roles on numerous television shows.
Throughout his busy schedule, he always makes sure he attends at least one Redskins home game around the holidays, tailgating with his friend, Justin, and family members.
"I like the camaraderie," Pinkston said of enjoying football.  "It's such a short season to have to get together in such a short amount of time, especially when you have people coming in for a year and leaving. I've always loved that energy. I just love when a team comes together and can stick together. There's something about that that you don't really see in any other sport."
One of the highlights of his fan experiences came in the mid-2000s while working on a show called "Quintuplets." He received tickets from the network to attend a game in a player's box, where he met Redskins legend Darrell Green.
"It was probably one of the coolest things I've ever gotten to do," said Pinkston, who admitted he and his family usually dress in full Redskins gear to games. "It was awesome. It was just incredible to sit there and talk to him and watch them play and him kind of critique the team as they were playing. That's one that really sticks out to me."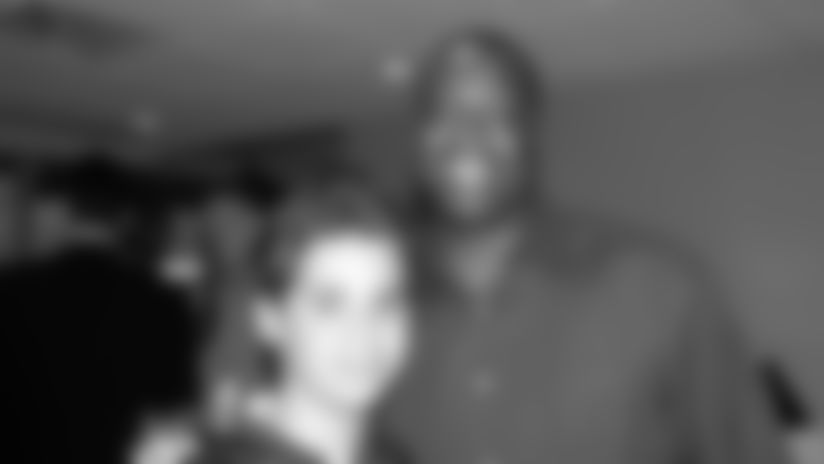 As work has required him to live in Los Angeles, and as his longtime goal to be an actor continues to be achieved, the time difference during football season can present some issues. Instead of enjoying a few beers with his buddies, Pinkston resorts to coffee as he cheers on his team.
"It's really tough to be a fan of all the teams on the east coast because they all come at 10 a.m. in the morning," he said. "When I moved out here I realized quickly I had to adopt some L.A. teams because I am such a fan of sports and it's a big part of my life. I started watching the Lakers who -- we've been having terrible year this year."
While Pinkston prepares for the premiere of his show -- "Clipped" is a modern take on "Cheers," set in a barbershop with a diverse group of former high school classmates – he is extremely grateful for the opportunity to work with his talented co-stars.
They include "Cheers" alum George Wendt along with comic actors Ashley Tisdale and Lauran Lapkus.
"I think the biggest plus and excitement for me is that you get to work with people you look up to," said Pinkston, who wears a Boston accent in the show. "George Wendt -- my dad made me watch 'Cheers' religiously growing up -- it's cool for me to be able to do it for my dad…I loved Lauren Lapkus and to be able to work with her is fantastic. I think that's the most rewarding thing."
He admires the teamwork, not unlike football, that's invested into a ten-episode show and the rapport needed to be successful.
It's similar to the kind of devotion Redskins fans – him included – show every Sunday.
"At the end of the day, that's what we have is each other," Pinkston said of Washington fans. "I think that's what makes us such loyal fans. We'll have our bad years but we're always going to be there when that schedule comes out and the next year starts."
"Clipped" premieres at 10 p.m. ET, Tuesday, June 16 on TBS