At last. Players on the field. Coaches in full voice. The sounds of football, minus the thud and thunder of collisions.
It's mini-camp, the first under coach Mike Shanahan. The teaching, the learning, the reconstruction on offense and defense, all of it packed into three intense days.
It's voluntary. No one must attend. Albert Haynesworth chose not to be here, as is his right (and his wrong). Jason Campbell won't take part either, his job now in Donovan McNabb's possession and his future here debatable.
You, of course, can't wait to find out what the team looks like now. Is this where we confirm that the Redskins will play a 3-4 defense? Can we get a look at the depth chart? Who is the starting running back?
Patience, friends. Patience. This is only the start of the competition for starting roles and the basic installation of new material. Take a look at the depth chart on Redskins.com and here is what you will see – a list of positions going four deep and not a single name anywhere.
The defense shows a 4-3 alignment but that might be because no new template has been created.
No starters. No backups. Talk about a clean slate. This one has been scrubbed, disinfected and sanitized.
Sure, you're disappointed. You waited for this mini-camp and some magic, you wanted the inside scoop and there isn't one. Sorry.
Forget about the 4-3, the 3-4, the blitz package and all the multiple formations possible on offense. That's not the focus of the moment. What Shanahan and his staff know – and now you do too – is that it's not how you line up, it's who you line up.
Can these players perform? That's the question. Despite a mass of releases on the eve of free agency that saw Chris Samuels retire and Antwaan Randle El, Randy Thomas, Fred Smoot, Ladell Betts, Rock Cartwright and Cornelius Griffin exit, much of last year's starting roster returns.
The 2009 season, you recall, ended with a 4-12 record, with two victories in the final 12 games.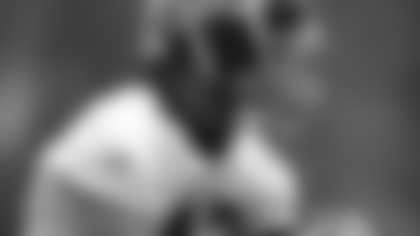 Shanahan and staff need to know what they've got here, what these players can do when put in position to achieve success. Many of the players frankly acknowledge that's not what occurred in the recent past, that there was too much emphasis on the so-called system and not enough on analysis of individual talents.
Former coach Jim Zorn tended to defend his offensive philosophy and point the finger at execution when it broke down. Technically, he might have been right. But players say they cannot execute when defenses know what they will run, that they're not able to make plays when there are no plays to make. So is that a failure of the scheme or the execution?
Defensive players complained they too were locked in rigidly, that scheme prevailed over playmaking. Sour grapes? No. The defense ranked 10th in the league but playmaking means turnovers, fumbles and interceptions that blunt drives and give the offense a short field.
The Redskins finished with 17 takeaways, the worst in the NFL. They recovered six fumbles, 31st in the league. They scored no defensive touchdowns. Could the players not make plays or were they not in a position to make them?
Who can play this game? How can those people best be used? Those are the questions this staff must answer and this is the research period.
Remember that the road back remains long and difficult. The Redskins will add more players next week in the draft and perhaps sign more free agents. The roster will undergo more changes. This is the shock of the new.
Shanahan has repeatedly said all jobs are subject to competition. Don't believe him? Take another look at that depth chart. It is the ultimate clean slate.
---
Larry Weisman, an award-winning journalist during 25 years with USA TODAY, writes for Redskins.com and appears nightly on Redskins Nation on Comcast SportsNet. Read his Redskinsblitz blog at Redskinsrule.com and follow him on Twitter.com/LarryWeisman.