There's a common saying amongst professional football players: "Look good, feel good. Feel good, play good." Grammatically flawed phrasing aside, it's no wonder that when the Redskins hit the road they usually want to look their best. While tough and physical on the field, "Skins Style" is an opportunity for players to show off their smooth and chic, their bold and subtle, their colorful and fashionable other half.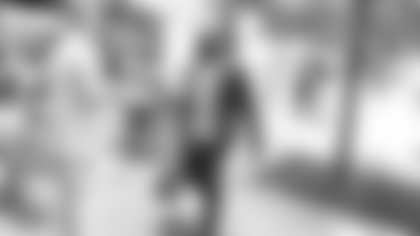 After 13 years in the NFL, safety DeAngelo Hall has seen a lot. He's also changed  a lot, too. That includes his wardrobe, which has matured and stayed up to date with the latest trends. Impressive for a father of four.
Location: Omni Hotel, Richmond, Va., boarding bus to Richmond International Airport
Reason: Preseason game at Atlanta
Particular Look:"This is actually a three-piece suit with a nice tie and tie pin but I wanted to dress down, so you see I've got no socks on, I've got the T-shirt underneath to give it more of a summer feel. This is a three-piece suit that I just decided to dress down."
Suit Designer: Elevee (stylist: Sami Jenks, since his rookie season)
Key accessory: Tie Clip "If I'm wearing a tie, it's the tie clip. You've got to have a spot-on tie clip. I collect tie clips."
Sunglasses: Tom Ford "My man Jay-Z said you've got to have dope sunnies."
Bag: Louis Vuitton."[The same pattern as the shirt] wasn't planned. That's just a Louis bag, a little Louis toiletry bag, too."
T-shirt:"I don't think I would have put a T-shirt with a jacket 10 years ago in general. But now that's kind of the latest fashion, the dress-down suits. Either jeans, T-shirt, still suit jacket, or you can kind of keep the suit together with a dress-down look underneath."
General Style: "It just depends on what mood I'm in. I've got such a wide variety."
Quotable:"I've evolved with the fashion. When I first got in the league, it was the big Steve Harvey suits, where the jackets come almost down to your knees. Over the years, it's gotten more and more European. Slimmer cuts, tighter fits. Everybody's rocking the Euro cuts now."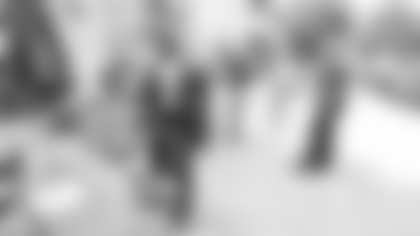 The Redskins' second-round draft pick this year, linebacker-safety Su'a Cravens, repeats the word "casual" when describing his style. As someone from Southern California, this makes both fashionable and practical sense. Used to the heat, Cravens made sure to be comfortable while still pulling off a signature look boarding the bus for his first NFL game in the Richmond heat.
Location: Omni Hotel, Richmond, Va., boarding bus to Richmond International Airport
Reason: Preseason game at Atlanta
Particular Look: "I had the three piece suit for this suit. I had the vest, bow tie, [but] I was like 'It's kind of hot out here.' I didn't feel like ironing the vest so I just threw the jacket on, went unbuttoned... It's hot [out]. It's a casual look."
Key accessory: Pocket Square "Pocket Square to match the shirt, just to catch the eye. It's good.  I like it."
Jacket Liner:  "I'm not big on jewelry, but I definitely like, and am concerned with, how the inside of my jacket looks. With these jackets coming up, I'm going to try to mix a little flavor in them and make sure it matches nicely with the pocket square and shirt." 
Bag and Backpack: Prime Society."A lot of players have started to wear these now."
Shoes: "Preston [Smith] owes me a pair of red bottoms. They can range in color. They've got the spikes on them. If you see me with a pair of red bottoms, you should thank Preston in advance."
Hair: "I just switch it up. I have my sister visiting me so she'll probably braid me before the game coming up. Everybody was so used to seeing me with the flat top [here]. I thought I would change it up a little bit."
Quotable:"I asked [Elevee] to send me some different designer suits because after I saw D-Hall's, I was like, 'Alright, I see what type of game he's playing.' I want to look my best on game day."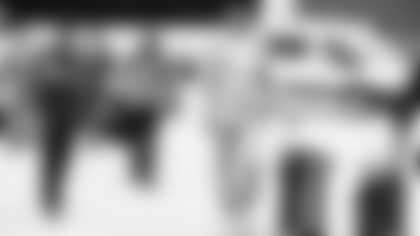 Linebacker Preston Smith found some strong mentors during his rookie year to guide him in his fashion. Now in his second NFL season, as he has become more confident in his talent on the field, he's become just as confident in his wardrobe. On the team's first road trip, Smith wanted to make an impression as well as keep up with the veterans' style.
Location: Dulles International Airport tarmac, Dulles, Va., boarding plane to New York
Reason: Week 3 vs. Giants, 2016
Particular Look: "I'm not into style knowing which colors go with which seasons. This was just the first suit I saw when I went into my closet. I had the shoes to match it and I really picked my suits based off the shoes. I wanted to wear those shoes as soon as possible."
Shoes:Christian Louboutin
Key accessory: Presidential Rolex: "It's got diamonds all over it and I just like to wear it because the diamonds bring out the suit. You can add a little more flash and class to it. "
White undershirt:  "It's kind of a lighter color and it lets the tie stand out. You don't want to bring a dark color with a light suit, so you don't have any colors clashing."
Luggage: Louboutin:"I just like black, so that's why I got the black luggage."
General Style: "My general style is laid-back but upscale. I like to look nice, where a nice suit and tie with some nice shoes. I like to clean it up a bit."
Quotable: "I learned a lot of things from some guys. You have to live up to their swag. D-Hall or Ricky Jean [Francois] or Trent Williams, guys who dress well and their wardrobe looks stylish during the week. I've got to live up to the other guys on the team by looking nice, too."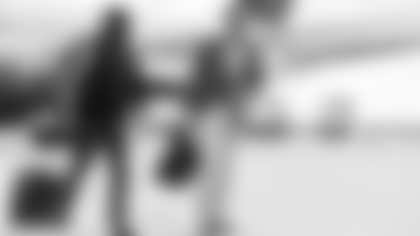 What you see is what you get from Colt McCoy. The quarterback makes it known on most days that he's a Texan through and through, regardless of the season. His style could be best described as no frills, a casual cowboy that balances on boots and struts in starched jeans. As McCoy says, he wants to keep his roots, no matter the occasion or the location.
Location: Dulles International Airport tarmac, Dulles, Va., boarding plane to Detroit
Reason: Week 7 vs. Lions, 2016
General Style: "I would not say that I'm really in tune to fashion. That's just the way I've always been. Never been too flashy."
Particular Look: "This is about as fancy as I will get. If I'm going to a wedding, or if I'm going to a funeral, I'm going to be in starch jeans and a sports coat."
Boots: Lucchese – "Those are crocodile, Caiman. It's actually the Caiman tail. Normally Caiman bellies, it's the soft side, so this is actually the top end of the alligator. I had them made. I'm kind of big into boots. I pull them out on special occasions. I think that's a Texas thing. I have several pairs of boots, they all fit just right, have them forever. Once you wear them two or three times, they're just as comfy as any other shoe. Those are good boots."
Jeans: Cinch – "Wrangler's and Cinch are pretty much the brand of choice, so I've got my starched cinch jeans on, fit right."
Watch: Breitling Colt – "I just like the watch because it's my name. I figure if it has my name on it, I might as well have it. That watch has been around forever."
Bag: "On the side, even though you can't see it, I have the Colt 45 logo. I got the patch stuck on the side so no one will ever misplace my bag. Samuel Colt invented the revolver way back when. I'm not saying that's my namesake, but I'll take it. So I just decided to throw that patch on the side there."
Key Accessory: Boots – "If I'm dressing up, normally the first thing I want to have is a nice pair of boots. I'll have them cleaned up, I get them waxed and polished -- I do it myself. I have all different colors at my house. I've got a nice pair of black boots, I've got a nice pair of a dark brown, these are a little bit lighter colored brown. I've never been extravagant and gone snakeskin boots or anything. I think that's kind of fraudulent. I think the snakeskin is more Urban Cowboy-ish. I still want to keep my roots. I just want a classic pair."
Quotable: "I think my wife would like me to get a little more into fashion, it's just not part of my DNA."