Every day throughout the course of training camp, The Redskins Blog will feature a devoted Redskins fan and tell their story.
Storm Burks always knew that his brother Ryan would be his best man. His only uncertainty came from how he would ask Ryan to stand by his side on the big day. 
"I was looking for a creative way. We're both die hard Redskins fans. I knew my brother was going to be my best man and I was just tying to find a cool creative way to ask him," says Storm. 
When Ryan, who lives in Waynesboro, Va., planned a trip to Richmond, Storm saw the perfect opportunity to make the most of his visit. 
"We knew that we wanted to come to training camp. We've never experienced training camp before," Storm explained.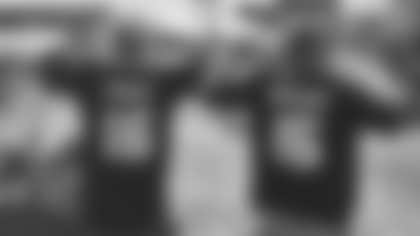 Before Ryan's arrival, Storm had custom Redskins shirts made with 'Groom' and 'Best Man' printed on the back. The number 16 represents the year of Storm's wedding. 
Although Storm planned on giving Ryan the shirt when they arrived at the Bon Secours Washington Redskins Training Center, he just couldn't wait. 
"I was going to give him the shirt today at training camp, but I was too excited last night to give it to him when he got into town," Storm explained. "So he came over, we gave him the shirt and had a good moment last night." 
The brothers proudly showed off their shirts as they took in the team's morning walkthrough. 
If Storm could add anyone else to his wedding day lineup, chances are it would be his and Ryan's favorite player: Ryan Kerrigan.