Jeremy Jarmon patiently waited his turn last season.
Finally, with three games left in the 2010 season, he was a part of the Redskins' defensive line rotation.
Now the offseason is in full swing, and Jarmon must wait again.
For strength and conditioning workouts. For mini-camps. For OTAs.
Last year, Jarmon, the Redskins' second-year defensive end, had rehabbed a knee ligament injury to get ready for the 2010 season.
He ended up with limited playing time, though, as coaches tried to ease him back into action.
Jarmon was deactivated most game days, but he tried to keep a positive mindset about it.
"I wouldn't say it was frustrating," Jarmon said. "I just went out to practice and worked hard every day. I did what they asked me to do in practice. When they told me I was going to be active, I was excited and I tried to do my part."
Overall, Jarmon played in five games, including the final three of the season as coaches wanted to get a closer look at young players.
He finished the season with six tackles and a half-sack.
Perhaps his biggest play of the season came in Week 5 vs. Green Bay when he pressured quarterback Aaron Rodgers in overtime. Jarmon forced an errant pass that was intercepted by safety LaRon Landry, setting up a game-winning field goal.
For Jarmon, big plays were few and far between last season.
He joined the Redskins as a third-round Supplemental Draft pick in 2009 and was seeing significant playing time as a rookie when he suffered the knee injury.
Unable to participate in off-season workouts and OTAs, Jarmon was already behind in learning Jim Haslett's 3-4 defense heading into training camp.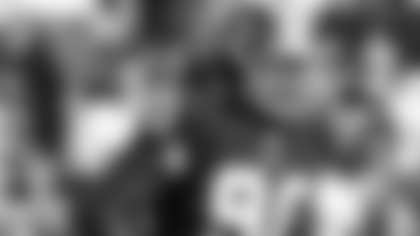 Jarmon was asked to play linebacker initially. Then, right before the start of Redskins training camp, he was shifted back to defensive end.
Toward the end of the season, Jarmon said he felt no lingering effects from knee ligament surgery and that he was practicing without restrictions by the end of training camp.
"It has been getting better just by practicing every day and also [being in] the strength and conditioning program," he said. "I did everything everyone else did [in practice], but I tried to get after it a little bit more."
Haslett is also eager to get another look at Jarmon this offseason – one year removed from his knee surgery.
Jarmon could compete for a starting job at defensive end, depending on if the team re-signs pending free agents Kedric Golston, Phillip Daniels and Vonnie Holliday.
"Jeremy has a little wiggle to him and he has got a little speed," Haslett said. "He is not the biggest guy in the world from a standpoint of fitting into the 3-4. He is probably 285 pounds, and we like to have our defensive ends at 315 or 320. But he is good at what we are asking him to do.
"He can rush the quarterback and he is pretty good at that. He is smart enough to drop [in coverage] and do other things that we ask him to do."