Donovan McNabb may still be a stranger in a strange land, but it gets less strange every day.
He works out at Redskins Park, grows more comfortable with his teammates and coaches, returns at day's end to a new home not far from his current place of employment.
It's a little more than a month since the Redskins acquired him from the Philadelphia Eagles and installed him as their quarterback. The roster keeps changing, the pace never slows and McNabb continues to sort it all out.
On Saturday, the second day of the second Redskins' voluntary minicamp, McNabb again reflected on how different a world he occupies.
"As a veteran, you kind of hate these kinds of camps, but obviously when you're in a new situation and you're learning a new offensive scheme, it's something that's going to benefit everybody," he said.
The joke about nearly every business is that it can be too much about process and not enough about product. Not applicable in the NFL. The process creates the product and the weight falls on McNabb.
The Redskins' success will depend on his absorption of an offensive scheme somewhat similar to the one he knew, but with different terminology and different people.
At 33, with 11 seasons behind him, he faces a learning curve less steep than a rookie but all the more important because he's the quarterback, the leader.
He'll stay after practice to throw to the receivers, then join them for lunch. Familiarity breeds attempts. Pass attempts, anyway.
That's one reason Malcolm Kelly, the third-year receiver, sticks around to run extra routes.
"You want to give him a feeling you're going to be in the right places," he said.
McNabb seeks to understand his teammates and how they respond, not only in their work environment. Who are they, really? How do they think, act, motivate themselves and others?
"We get together and get to know each other away from the game. I think that's very important in everything you do because that builds a lot of trust and a big bond and these guys are all willing to learn and I'm willing to do the same myself," McNabb said.
No doubt there's a little 'wow' factor involved. How can young players like Kelly and Devin Thomas not try to do more when they've been handed a six-time Pro Bowl choice? Yet McNabb is real, not some towering and standoffish legend.
"Donovan says he hates it when I tell him I used to watch him when I was in middle school," said Kelly, 22. "He's just another dude, but I've been watching the dude since I was in middle school."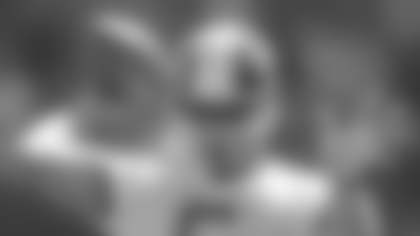 That's part of McNabb's mystique. He holds almost every significant passing record in Eagles' history, played in five NFC championship games and a Super Bowl but he is approachable and encouraging. His experience and his willingness to work rub off quickly.
"He's good," tight end Fred Davis said. "He's a leader. And he's been doing it for a while. He knows when to throw the ball and where to put it."
McNabb knows not to make snap judgments about progress so early in the process. There's much to understand, nuances to grasp, the strengths and weaknesses of each receiver to comprehend. There's an offensive line under construction, competition among the running backs.
"I think everyone is getting their feet up under them and having an idea as far as what we want to do as an offense," he said.
Coach Mike Shanahan rarely deals in effusive praise and he doesn't ladle it out where McNabb is concerned. The Redskins haven't won any games yet. Haven't played any games yet. Have not put on pads and smacked each other around yet. All of this is prelude.
"It's a start," Shanahan said. "Any time you go into a new system, it's like learning a new language. You have to think … until the terminology becomes second nature."
McNabb played 11 seasons, all in the same system for the same coach (Andy Reid). Wore the same uniform. Knew the landscape and the culture.
The Eagles this year celebrate the 50th anniversary of their last championship and criticism still rings out in Philly because the club failed to win another during McNabb's tenure. That, and some sniping from former teammates, rolls off McNabb. He's starting over with a team that wanted him and paid two high draft picks to get him.
"I'm a Redskin now," he said. "We're all learning and trying to be on the same page. It's exciting."
Exciting. And a little less strange every day.
---