Interim head coach Bill Callahan made it clear on Monday in his first press conference: he wants to rejuvenate the Redskins' running game.
Callahan has a vision for what he wants the offense's identity to be moving forward; it involves hard work, consistency and playing two-down football with a strong ground game as the foundation.
The hard work is already there, but the consistency and run-dominant offense have been absent through the first five games. Callahan is determined to change that.
"I'd like to get our run game going," said Callahan, who served as the offensive line and assistant head coach before his promotion. "I think that's important because everything else is complementary off it -- the run action, passes and protections off of it complement your running game. If we can play two-down football and go from second down to first down, that would be huge."
The Redskins have relied on the passing game for the majority of their offensive production. They have called passing plays 68.79% of the time their offense is on the field, according to teamrankings.com. That ranks ahead of some of 2019's best offenses, including the Los Angeles Rams, Kansas City Chiefs and Dallas Cowboys.
That formula hasn't yielded much success, though. The Redskins have only scored 10 points in the last two games. Additionally, the offense averages 212.2 yards through the air, which ranks 26th, and is ranked 28th in total yards per game.
The number of pass attempts have come at a detriment to the team's rush attempts. The Redskins have only run the ball 88 times through five games, which comes to an average of 17 times per game, for 344 yards and 3.9 yards per carry.
That hasn't deterred Callahan's confidence in running the football, though, and that has players excited.
"It's obviously a huge part of football," said offensive lineman Wes Martin. "You've got to establish the run and get it going. I think that's huge and it's something that we're going to emphasize moving forward."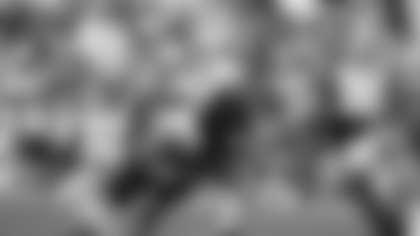 Running back Adrian Peterson certainly agrees.
"When you think about the guys up front and what we can do from the running back room as well…even though it's been slim the past five weeks, he's seen enough to know that we can make the run game the focal point of our offense and build off of that. It makes us feel good."
Granted, the wide margin between the number of pass and run plays called have largely been because of in-game situations. Aside from the team taking a 17-0 lead in the first half of the season opener against the Philadelphia Eagles, the Redskins have usually been down multiple scores, which has forced them to turn to passing the ball more often.
Still, Callahan wants the offense to commit "a little more" to the run to create a rhythm for Peterson and Chris Thompson.
"I think a running back needs to get into a rhythm, and we've got to find a run rhythm," Callahan said. "I can't guarantee or promise that'll happen, but that's the goal to find a rhythm where we can get these backs rolling and going."
Establishing a rhythm is important to all aspects of the ground game, and that includes the offensive line.
"I think there is some flow and rhythm that comes with run blocking," Martin said. "And then there's some plays where you just got to go in there and kind of grind it out. It's a bit of both."
As someone who has been in the league since 2007, Peterson agreed that his position depends on getting a rhythm early. He recalled a particular moment against the Patriots where he had an eight-yard run that he thinks could have been a touchdown if the safety hadn't tackled him.
Peterson was expecting to get another attempt, but he didn't touch the ball again until the following quarter.
"It was like I was so close and…let's not get away from it," Peterson said. "Let's come back to it. Maybe if we get that [guy] blocked out…it's a homerun. You gotta get into a rhythm, that's for sure."
Callahan is not ignorant to how modern NFL offenses operate; he knows that his offense is going to be in passing situations. But he also believes that establishing a run game will give the offense a change in personality.
"Running the ball sets an attitude, sets a physical style, it sends a message and it puts confidence in your line and your backs," Callahan said. "It takes a little bit more pressure off the quarterbacks as well."
Callahan added that running the ball 25-30 times will give the offense a little more balance. Their next game, which is against the Miami Dolphins and their last-ranked rushing defense, would be a good time to get that vision started.
"Whether it's rushing yards or rushing attempts, I think that's critical," he said.