Since emerging as a starting weak-side linebacker in 2007, Rocky McIntosh has proven to be a steady contributor for the Redskins' defense.
Now the team is looking for McIntosh, who is entering his fourth NFL season, to help create and convert more game-changing plays.
That's something the Redskins' defense has lacked in recent years.
One thing that could contribute to a potential breakout season for the 6-foot-2, 232-pound University of Miami product is the Redskins' restructured defensive line that, on paper, appears to be a strong point this year.
A key factor that should help McIntosh and the linebackers is the addition of the highly sought-after free agent Albert Haynesworth, who the team expects to draw considerable attention from opposing offensive lines.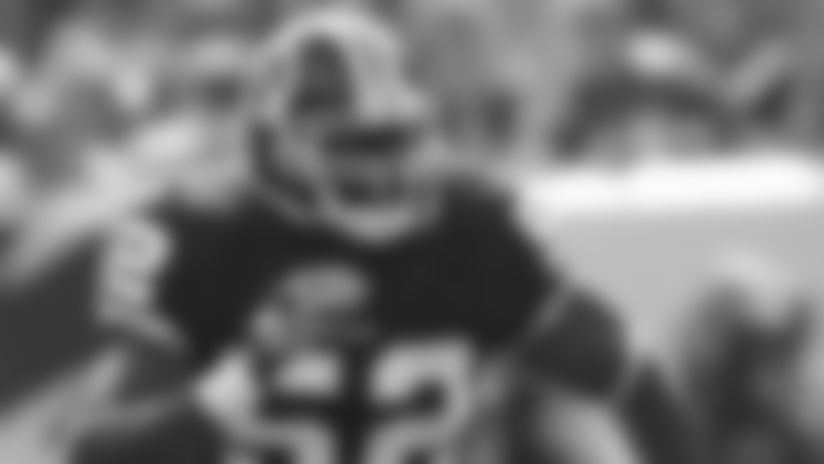 On run plays, McIntosh should benefit from Haynesworth's presence when the burly defensive tackle takes up multiple blockers, leaving McIntosh untouched to make the stop.
When the opposition airs the ball out, Haynesworth should draw enough attention to improve McIntosh's positioning in pass coverage--and even blitz when necessary.
When asked if he felt that the upgraded defensive line would help his production, McIntosh was convinced that it would.
"Definitely, it's not going to do anything but help us all throughout the year," McIntosh said. "We were pretty good last year and we expect to be even greater this year."
Playing between a promising defensive line and secondary, McIntosh and the Redskins' linebackers should provide a steady presence to a defense that was ranked fourth overall last year.
McIntosh is one year removed from an arduous rehab of his reconstructed knee, which he injured late in the 2007 season.
He recovered quickly enough to be a solid contributor last year. In 16 games, he tallied 87 tackles, two sacks, one interception and two forced fumbles following his rehab.
McIntosh said he does not feel pressure heading into the season and he has confidence in his defensive teammates.
At the same time, McIntosh knows that coaches expect him to continue to blossom into the playmaking linebacker that they drafted in the second round (35th overall) of the 2006 NFL Draft.
"Everybody has a role in this defense," he said. "You challenge me to do anything and I'm going to step up to it."
When asked if there was anybody on this year's schedule that he was excited about playing, McIntosh mentioned the New York Giants.
The Redskins, of course, open the 2009 regular season against the Giants on Sept. 13 at the Meadowlands.
"I can't give anybody any fuel for the fire," McIntosh said. "But the Giants won a couple games on us last year, so hopefully we can put something together and beat those guys."