Linebacker Preston Smith still has some time until he meets his new teammates at Redskins Park but that doesn't mean he isn't getting ready for the season like everyone else.
After one of his workouts at the Mississippi State facility, he posted this Instagram video (above) tracking down a football pop fly he threw to himself, showing off hands that general manager Scot McCloughan said "might be the best on the team."
McCloughan may have been referring to Smith's ability to push off blocks -- or not, if he's able to keep doing this.
"You know, that's the one thing that drew us to him was his athleticism," head coach Jay Gruden said last week. "When you watch him work out, he's got smooth hips. Very good athlete, fluid. You know, he can drop into coverage, he caught the ball like a tight end at his pro day. You know, very athletic, so I don't think that'll be hard for him."
Also, check out the Redskins shorts already.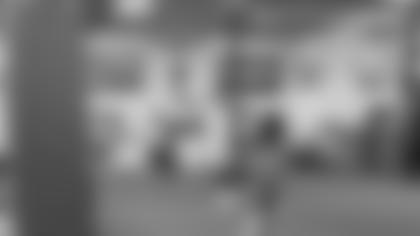 While Smith might have the best hands, what about sixth-round draft pick Evan Spencer's hand, singular?
That's right. Here's a still from his latest Instagram video post, which features him working out inside, making one-handed catches from a passing machine look scarily easy.
Gruden is also excited to see how his physicality will translate to the NFL, not even mentioning his soft hand(s).
"He's big, he's fast, he's physical," Gruden said of Spencer. " He's going to be a demon on special teams. He's going to make it hard on everybody to make a move with him but I think he's going to be here for a while just because of his mental makeup. He's a heck of a person. He's going to work extremely hard and when you have a guy who's that big and that fast, loves the competition, loves to play the special teams, loves to block safeties and corners and all that, you'll find a spot for him on the football team."