On today's edition of NFC East Intel we look at the Eagles' wide receivers, the Giants looking to extend a key contract and whether the Cowboys will land a former 2,000-yard rusher.
Headline:Could Young Wide Receiver Tandem Be The Eagles' Best Twosome In Franchise History?
A recent CSNPhiladelphia.com article looked at the possibility of Jordan Matthews and Nelson Agholor combining for the best statistical performance by two wide receivers in a single season.
What this means for the Redskins:Even though the Eagles decided to cut ties with DeSean Jackson last offseason and let Jeremy Maclin walk this season in free agency, they've retooled their wide receivers unit with second-year Vanderbilt product Jordan Matthews and USC rookie Nelson Agholor.
Matthews strung together a solid first season in the NFL, as the 6-foot-3, 212 pounder appeared in all 16 regular season games with 67 receptions for 872 yards and eight touchdowns.
In back-to-back games during mid-November, Matthews combined for 12 receptions for 245 yards and three touchdowns.
Agholor, meanwhile, comes to Philadelphia after a junior season in which he set career highs across the board with 104 receptions for 1,313 yards and 12 touchdowns.
During the combine in February, Agholor showcased his speed by clocking a 4.42-second 40-yard dash.
But despite all of the talent they possess, can they really put together the best combine single-season performance in franchise history?
Well, if recent history suggests anything, they just might, as Jackson and Riley Cooper combined for 2,167 yards in 2013 and Maclin and Matthews totaled 2,190 yards in 2014 – the two highest combined single-season totals in franchise history.
---
Headline:What's The Situation At Tight End?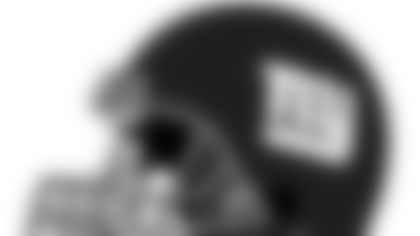 Larry Donnell emerged for the Giants at tight end last year, but even if he replicates his breakout season in 2014, who else can New York rely on at that position?
This time a year ago, Donnell was nothing more than a face in the crowd for the Giants, but the Grambling State product recorded 63 receptions for 626 yards and six touchdowns, three of which came against the Redskins in a Week 4 Thursday Night Football matchup.
While Donnell's production did tail off towards the end of the 2014 season, recording just one touchdown reception over the final eight games, the Giants still have high hopes for him this season.
But after suffering an Achilles injury during the offseason, there are concerns about the position's depth even if Donnell is fully ready to go for training camp.
Graziano has just one other tight end making the Giants' 53-man roster – Daniel Fells.
Fells appeared in all 16 games for the Giants last season, his first with the team, and recorded 16 receptions for 188 yards and four touchdowns.
Even if the Giants do not necessarily need a tight end who can gobble up receptions, especially with Odell Beckham Jr. around, depth could be a question mark if Donnell struggles to stay healthy.
Headline:Eli Manning, Giants Working On Contract Extension
The Giants are hoping to keep their franchise face around for a few more years, as the two-time Super Bowl champion gets ready to start up his 12th season in The Big Apple.
What this means for the Redskins:While there's little expectation that the Giants and Manning won't come together on a new deal, they are hoping to get something done relatively soon, even as early as before training camp.
While he's doesn't rack up the statistical accolades his brother does year after year, the Ole Miss product has consistently been one of the better quarterbacks in the NFL for quite some time.
He's started every regular season and postseason game for the Giants dating back to Week 11 of the 2004 season.
Over time, Manning has become the man most recognizable with the franchise, as he's now considered one of the franchise's top players in their history.
But even with the resume he's already built, the Giants are hoping he can led them to success once again, this time with a new crop of weapons.
He's entering the final year of his current contract, and, according to New York Daily News, is set to make more than $17 million this season.
---
Headline:Could Chris Johnson Be A Cowboy In 2015? What this means for the Redskins: It wasn't that long ago that Johnson was in the discussion of top running back in the league, as he and Adrian Peterson annually battled for that title.
Unlike Peterson, though, Johnson could simply outrace anyone on the football field, as evident by his six career touchdowns of 80 yards or longer.
During the 2008 season, the East Carolina product became just the sixth player in NFL history to rush for 2,000 yards and shattered Marshall Faulk's single-season yards from scrimmage record with 2,509 yards.
But since that historical season, Johnson's numbers have been in steady decline, even after receiving a large contract from the Tennessee Titans.
Last season, Johnson, who was released by the Titans following the 2013 season, was with the New York Jets where he posted career lows in attempts (155), yards (663) and touchdowns (one).
Still, Johnson believes he can still be an impact player in the league and has been linked to Dallas for quite some time right now as many are unsure if newcomer Darren McFadden can carry the load for an entire season.
From all indications, Johnson isn't a "priority or target" at this moment, but could become one if McFadden and the rest of the running backs underwhelm early in camp.
"If the Cowboys aren't happy with what they get out of the running back position in training camp, I'd argue just about any available back with a proven track record could be considered a fit. Johnson falls into that category," Moore writes.