Redskins.com's training camp practice reports come to you with news and updates as action happens on the Redskins Park practice fields:
-- 7:55 a.m. ET
Day 2 Begins With Breaking News?
Heard the word coming in to training camp early this morning. Reports are circulating that the Redskins have agreed to terms on a contract with top draft pick Trent Williams.
Nothing official yet, though.
I have been told to wait for some news on Trent Williams, though.
If in fact Williams has signed, he would be the highest draft pick to sign thus far. He was the fourth overall selection in the draft last April.
-- 8:05 a.m. ET
Latest on Haynesworth Drama?
Haynesworth was seen outside the Redskins Park facility about 35 minutes before the start of practice talking on his cell phone.
It would be safe to assume he has taken his conditioning test this morning. No word yet on if he passed, but we'll know in about 25 minutes.
As Mike Shanahan said on Thursday, Haynesworth won't be allowed to participate in practice until he passes the conditioning test.
-- 8:09 a.m. ET
It's a beautiful morning in Ashburn, Va., perfect weather for training camp.
A couple of fans in the VIP area are holding signs. One reads, "I've Got Skins Fever." Another reads, "Cooley is Cool."
Editorial comment: folks, we need to be a little more creative with signs.
After Thursday's abbreviated practice, I expect the Redskins to go a full two hours – maybe longer – in Friday's practice.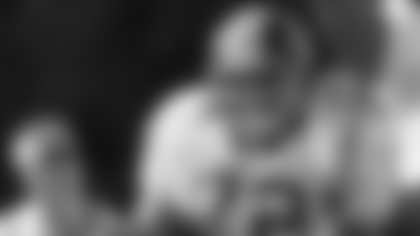 Players are wearing shorts and pads.
-- 8:12 a.m. ET
This is an unscientific survey, but it appears that Chris Cooley is the popular jersey choice among Redskins fans at practice.
The late Sean Taylor is second and Brian Orakpo is third.
There aren't as many Donovan McNabb jerseys present among fans. I expect that to change once the season kicks into gear.
-- 8:25 a.m. ET
Trent Williams is signed, sealed and delivered.
He is on the practice field working with teammates after holding out one day of training camp.
Williams walked out alongside other offensive lineman with a big smile on his face.
Time to get to work for the fresh-faced rookie.
He is expected to start at left tackle with the first team.
-- 8:45 a.m. ET
Just checked the practice fields and No. 92 – Albert Haynesworth – is not working with the defensive linemen.
I went inside the facility and saw Haynesworth working on the treadmill alongside strength and conditioning coach Ray Wright.
Certainly, head coach Mike Shanahan will address Haynesworth's status after practice.
-- 9:10 a.m. ET
Heavy emphasis on the ground game in the Redskins' first series of 11-on-11 work, giving fans a close look at the competition between Clinton Portis, Willie Parker and Larry Johnson.
First play, Johnson breaks to the left and weaves past blockers for a nice gain. He fends off Kareem Moore and races downfield to the end zone, drawing cheers from fans.
Johnson is a very physical runner. He uses his upper body and his arms like no other running back I've seen before.
Second play, Parker breaks free on a run to the right. He flashed speed and then danced along the sideline to pick up a few more yards.
Third play, Portis gets the tough yards. He goes on a run up the middle and is surrounded by tacklers.
Later, Mike Sellers helped open a gaping hole up the middle, giving Portis plenty of room to charge through the line for a nice gain.
-- 9:15 a.m. ET
Carter Makes His Presence Known
Andre Carter, competing with Lorenzo Alexander for the starting outside linebacker job, burst into the backfield after the snap.
He quickly broke up a Larry Johnson run to the right.
The play drew the loudest cheers of Friday's practice.
Carter was thought to be unsure of switching to outside linebacker, but he appears to be transitioning well.
-- 9:20 a.m. ET
Donovan McNabb likes to throw deep. A lot.
Both of his passes in the first series of 11-on-11 work were deep throws.
First McNabb threw long to Santana Moss, who had a step on a defender. The pass was overthrown.
A few plays later, McNabb threw deep to Anthony Armstrong, who also was a step open downfield. The ball bounced off of Armstrong's fingertips, again overthrown.
Clearly McNabb needs to get his timing down with his new receivers.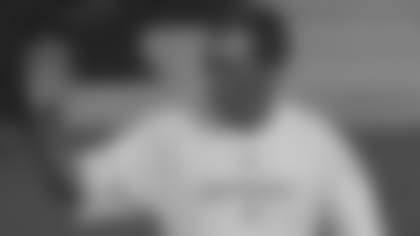 On the last play of 11-on-11 work, McNabb rolled right. He connected with Fred Davis along the sideline for his first completion.
-- 9:45 a.m. ET
In the next series of 11-on-11 work, the offense focused on shorter routes.
Donovan McNabb excelled throwing a pair of short outside routes to Fred Davis.
McNabb and Davis seem to have developed quick rapport on the field.
-- 9:48 a.m. ET
General manager Bruce Allen spent time with University of Richmond head football coach Latrell Scott on the sidelines.
Scott presented Allen with Richmond Spiders polo shirt.
"I want to see you wearing that now," Scott said.
-- 10:15 a.m. ET
After a special teams session, it was time for offense vs. defense again in 11-on-11 work.
Here are some of the highlights, coming fast and furious:
Reed Doughty raced over to bat away a Rex Grossman pass to Anthony Armstrong.
Willie Parker burst past the line for a nice gain. Ten yards downfield, rookie safety Anderson Russell wrapped up Parker and pulled the ball loose. Fumble, and Russell pounced on the ball for the recovery.
Time for Richard Bartel to throw deep. His pass to the end zone bounced off the fingertips of Terrence Austin downfield. Another incompletion. Looks like the quarterbacks and wide receivers need to work on their timing on deep throws.
On the Bartel pass, Clinton Portis leveled a blitzing Rob Jackson in the backfield, keeping him away from the quarterback.
New right tackle Jammal Brown pushed an oncoming Brian Orakpo around the edge and past Donovan McNabb in the pocket. The block allowed McNabb to get off a pass downfield.
Next play, Lorenzo Alexander and Orakpo blitzed around the edges and immediately pressured McNabb in the pocket. Surrounded by defenders, McNabb eluded them by scrambling up the middle for a modest gain.
Devin Thomas makes a nice sideline grab of a Rex Grossman pass. He caught the ball in front of Justin Tryon, who got up and clapped his hands in frustration.
Jeremy Jarmon got late pressure on Grossman and would have had a sack. Grossman eventually got off a pass downfield to Mike Furrey.
On a run up the middle, Stephon Heyer pushed rookie linebacker Perry Riley back five yards downfield, helping to open up a hole for running back Ryan Torain.
-- 10:30 a.m. ET
Time for more special teams work -- an opportunity to monitor who is competing at punt returns for the Redskins.
Up first is Phillip Buchanon, probably the most accomplished punt returner on the team. He has three punt returns for touchdowns to his credit, but none since 2003.
Then it's undrafted rookie Brandon Banks, who had four kickoff returns for touchdowns and a 9.1-yard punt return average at Kansas State last year.
Bobby Wade is next. He has a career 8.5-yard punt return average and one punt return for a touchdown in his 7-year NFL career.
Finally, Santana Moss and DeAngelo Hall take some reps at punt return. Similar to last year, Moss and Hall are not expected to serve as full-time punt returners.
-- 10:58 a.m. ET
Trent Williams celebrated the signing of his rookie contract on Friday by signing dozens of autographs for fans.
He was carrying DeAngelo Hall's helmet and pads coming off the practice field.
Looks like there's no Dez Bryant-type controversy coming from Williams, who said he didn't mind doing chores for veterans.
"I can carry pads all day," he said.
-- 11:05 a.m. ET
It was confirmed that Haynesworth did not pass his conditioning test on Friday morning.
Just like Thursday afternoon, Haynesworth emerged from the weight room after the Redskins' practice and worked with defensive coordinator Jim Haslett and defensive line coach Jacob Burney.
The focus is on drills and instructing Haynesworth on technique.
After the 30-minute session, Haynesworth headed into the facility. A pack of reporters followed him closely. He did not respond to questions.
Haynesworth did stop to sign a handful of autographs again.
-- 11:30 a.m. ET
Trent Williams At the Podium
Top draft pick Trent Williams addressed the media after participating in his first Redskins training camp practice.
He signed his rookie contract early on Friday morning. The deal was done at about 4:30 a.m. ET.
"I just went with what my agents thought was best," Williams said. "Obviously I wanted to be here in camp, so they did what they had to do."
Williams admitted he was somewhat anxious when the Redskins opened camp on Thursday without him.
"I was nibbling at the bit just to drive by and see what was going on, but I tried to my best to stay occupied," he said.
He did not sleep at all Thursday night as he waited to hear word of negotiations.
"We were kind of prepared to miss one day," he said. "But I kind of urged my agents that I didn't want to miss any more."
As expected, Williams started at left tackle with the first-team offense, just as he did during off-season work.