Redskins.com's training camp practice reports come to you with news and updates as action happens on the Redskins Park practice fields:
-- 7:55 a.m. ET
It has become clear that Donovan McNabb and Rex Grossman are locked in as the Redskins' top two quarterbacks on the roster.
That leaves Richard Bartel and Colt Brennan battling to be the third quarterback.
Based on number of reps in the first three days of training camp, it would appear that Bartel is ahead of Brennan on the depth chart. That's not official, just my estimation of workload so far.
Head coach Mike Shanahn acknowledged on Saturday that there is competition between Bartel and Brennan.
"They go out there to prove themselves and that is what you are looking for," Shanahan said. "They both have been splitting reps and both have been doing a good job."
Shanahan was asked if he prefers carrying three quarterbacks on the roster during the regular season.
"Yes, I think it is good to have three quarterbacks if you feel that guy deserves to be on your football team," Shanahan said. "Number one, you never have enough quarterbacks and if you lose somebody, it's hard to find a person that can come in and run your system.
"So that's why you try to protect them and have four or sometimes five quarterbacks that know your system. Once you lose a guy or two, regardless of how good the quarterback is, it takes time to learn the new system."
-- 8:35 a.m. ET
Let's get Big Al out of the way at the top.
Albert Haynesworth did not run his conditioning drill on Sunday morning. He won't practice with the team.
It is the fourth consecutive practice he has missed, excluding the afternoon walk-throughs, and second consecutive day he has been unable to run the conditioning test.
Haynesworth was bothered by a knee injury on Saturday and was advised by team doctors not take the test.
There is no timetable for Haynesworth to take the test.
"It all depends on how his knee is and how he is feeling," head coach Mike Shanahan said.
Haynesworth may watch part of practice on Sunday with teammates as he continues to learn Jim Haslett's defensive scheme.
-- 8:38 a.m. ET
Can't ask for better weather for Redskins training camp.
There is actually a cool breeze that is making it a pleasant day to watch camp.
Strong crowd on hand for Sunday's practice.
Fans are being ushered beyond the main area to watch practice from one of the end zones.
I think that's a better view than the sidelines. You can actually watch a play develop from that vantage point.
-- 8:40 a.m. ET
Apart from Mike Shanahan and Jim Haslett, Redskins assistant head coach-running backs Bobby Turner is probably the most accomplished coach on the field.
Turner has coached the likes of Terrell Davis (who is a Redskins coaching intern this training camp), Clinton Portis, Mike Anderson, Olandis Gary and Mike Alstott, among many others.
Turner is an old-school coach. Even in the hottest of days, he is on the practice fields wearing a long-sleeve sweat shirt and sweat pants.
"I've had coaches come up to me and say, 'What's up with Bobby?'" Shanahan said, laughing. "I can't answer that. But he always seems to make it. He's a disciplined guy himself, and I'm not sure how he [handles the heat]."
Shanahan praised Turner for being a perfect fit for his offense and his style of coaching.
"There's a standard that Bobby has and we want every back to have that standard," Shanahan said. "If you have that standard, it's pretty easy to ask guys to buy in. As long as you're consistent with your approach, Bobby demands perfection. Guys love Bobby because there is no nonsense."
-- 8:50 a.m. ET
As expected, wide receiver Malcolm Kelly is not practicing on Sunday.
Kelly is slowed by a hamstring pull.
He is once again working with physical therapist and assistant athletic trainer Elliott Jermyn on the sidelines.
Mike Shanahan said he expected Kelly to be back at practice early this week, possibly Monday.
-- 9:10 a.m. ET
A daring fan watching practice along the sidelines is wearing an Eagles jersey – DeSean Jackson jersey No. 10.
He came to Redskins training camp with a friend wearing a Donovan McNabb Redskins jersey.
Jackson, of course, was Donovan McNabb's top target the last two years in Philadelphia.
-- 9:15 a.m. ET
He is a 15-year NFL veteran, he is 38 years old, and he has 689 career catches and 77 touchdowns.
And he is showing no signs of slowing down.
Joey Galloway has emerged as a candidate for the Redskins' starting job opposite Santana Moss.
In Sunday's practice, he impressed with two nice catches, one from Donovan McNabb and one from Rex Grossman.
Devin Thomas missed time in the offseason due to a hamstring injury and now Malcolm Kelly is sidelined with a hamstring pull.
Galloway and Roydell Williams, who also had a nice catch early in Sunday's practice, are taking advantage.
-- 9:20 a.m. ET
Here are some of the early highlights of 11-on-11 action:
Fred Davis blocked out a charging Lorenzo Alexander on a Ryan Torain run up the middle. Torain broke free and raced downfield for a nice gain. On the opposite side of the line, Jammal Brown also had a nice block.
Kedric Golston and Rocky McIntosh combined on a tackle of rookie Keiland Willaims on a run up the middle.
Andre Carter was fooled badly as Rex Grossman fakes a handoff and rolls to the right. Carter, realizing his mistake, resumes the chase, but he is too late. Grossman completes a pass to Roydell Williams for a nice gain.
Chris Wilson fought off a block by rookie Logan Paulsen and disrupts a run by Ryan Torain. A host of defenders, including Wilson, tackle Torain.
Donovan McNabb closed out the first 11-on-11 session with a wobbly pass to Santana Moss along the right sideline. Moss pulled the pass in and kept both feet in bounds.
-- 9:40 a.m. ET
DeAngelo Hall and Carlos Rogers appear to be locked in as the starting cornerbacks.
At nickel cornerback, there is a good competition going.
Given his eight years of NFL experience, Phillip Buchanon has to be considered the early favorite. But don't count out Justin Tryon, who emerged as a solid defender for the Redskins last year.
Tryon leaped up to make an interception off Colt Brennan midway through Sunday's practice.
He earned effusive praise from defensive backs coach Bob Slowik as he raced down the field on the return.
Tryon posted 30 tackles, one sack and one interception last year. His interception came off Donovan McNabb in Philadelphia.
-- 9:55 a.m. ET
A lot of work for the backups on Sunday. Here are more highlights, coming at you fast and furious:
First play after his interception, Colt Brennan responded somewhat tentatively. He did not see a receiver open downfield, so he pulled the ball in and runs up the middle. Linebacker Chris Draft closed in on him, ending the play.
Terrence Austin with another nice catch, this time grabbing a Richard Bartel pass across the middle. There's Anderson Russell in his way, the two collide hard. But Austin held on to the ball.
Russell got a running start blitzing into the offensive backfield, but Bartel saw him coming and lofted a pass over him to Ryan Torain in the flat. Torain raced down the sideline for a nice gain.
Rough day for Brennan so far. He under-threw a receiver running a route down the middle of the field. Could have been a bad pass, could have been the wide receiver running the route too deep.
Jeremy Jarmon schools rookie Selvish Capers (playing at left tackle) around the end. Jarmon would have had a sack on Brennan on the play.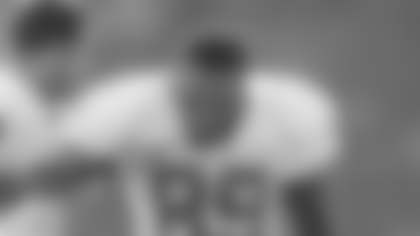 -- 10:20 a.m. ET
Devin Thomas found himself drawing triple coverage on a downfield route.
The ball came his way anyway.
Thomas made the grab and then turned upfield. He out-raced defenders to the end zone for the score.
Thomas, a starter last year who is competing for playing time, gave a little fist pump as he crossed into the end zone.
-- 10:35 a.m. ET
Not many fans have head of Richard Bartel, who served as the Redskins' third quarterback for six games last year. Bartel is competing with Colt Brennan for the third QB job this year.
I highlighted a series of Colt Brennan plays on Saturday, so here are a series of Bartel plays.
Bartel scrambled away from pressure, running to his right. Just by the sideline, he threw across his body to Willie Parker for a 5-yard gain. Several QBs have thrown across their body on plays this camp. It's a dangerous pass.
Next play, Bartel threw to Devin Thomas for a 8-yard pickup. He did not see that Chris Draft was covering speedster Terrance Austin in the slot, which could have resulted in a bigger play.
In the red zone, Bartel threw a perfect, high-arching pass to Lee Vickers along the left sideline. Vickers, covered by Lendy Holmes, had the ball in his grasp, but he bobbled the ball and it fell to the ground.
-- 10:45 a.m. ET
Rex Grossman dropped back to pass and heaved a deep sideline pass to Anthony Armstrong.
The ball seemed to hang in the air forever -- that's not a good thing.
LaRon Landry came over and made a sensational leaping interception in front of Armstrong.
Landry quickly got up with the ball. The whistle blew, but Landry did not step out of bounds, so he raced the other way with a caravan of blockers.
-- 10:50 a.m. ET
Practice is winding down, and it's offense vs. defense one more time. The highlights:
Donovan McNabb fired a short pass to Joey Galloway, DeAngelo Hall tried for the pick, but the ball got to Galloway in time.
Chris Horton made a diving attempt for an interception of Rex Grossman pass, but he can't hold on.
Donovan McNabb with a nice throw to Santana Moss -- he was quick and decisive, giving Moss an opportunity to extend the play.
Clinton Portis took a handoff and ran left into tacklers, then shifted right. He made it past the line of scrimmage but he was tackled by Lorenzo Alexander and Kevin Barnes.
Next play, it was H.B. Blades' turn to take down Clinton Portis on a run up the middle. It was about a 3-yard gain for Portis.
Bad pass by Donovan McNabb -- Bobby Wade was wide open on a short route, but the ball skipped on the ground.
-- 10:55 a.m. ET
Just as practice comes to an end, Albert Haynesworth makes his first appearance.
He makes his way to the practice field alongside strength and conditioning coach Ray Wright.
He meets with defensive coordinator Jim Haslett and defensive line coach Jacob Burney on the far field for more instruction.
Learning the terminology and understanding the play responsibilities are key for Haynesworth.
The mental reps continue, until he can pass his conditioning test.