It reflects a new mindset, different responsibilities and attitudes, an approach at variance with the past.
Change comes slowly at times, especially in the face of raised expectations.
So it is for the Redskins and their defense.
Historically a 4-3 team (four down linemen, three linebackers), the Redskins joined several others this season in shifting to a 3-4 (three linemen, four linebackers). Head coach Mike Shanahan and defensive coordinator Jim Haslett like the versatility of this alignment, the ability to disguise blitzes in it, the opportunity to confront offenses with a wide array of looks aimed at causing confusion.
Change brings growing pains.
After the first four games of the season, the Redskins' defense ranks 31st in the NFL. That's a measure only of total yards allowed. It doesn't include other factors, such as DeAngelo Hall's fumble return for the club's lone touchdown in the opening-day victory over the Dallas Cowboys, Hall's game-saving interception against the Philadelphia Eagles, or the six takeaways, which are already half as many as the team engineered last year.
"This defense does work and it has worked for a number of teams around this league," says defensive end Phillip Daniels. "We've got to go out and believe in the defense, trust the calls and make plays."
Teaching players a new scheme and redefining their roles take patience and a willingness to stick to a philosophy. The Redskins have moved a number of players into different positions – Rocky McIntosh from outside linebacker to inside, London Fletcher from middle linebacker to inside linebacker, Brian Orakpo from a part-time end and part-time linebacker to full-time outside linebackers, Albert Haynesworth from defensive tackle to nose tackle and end.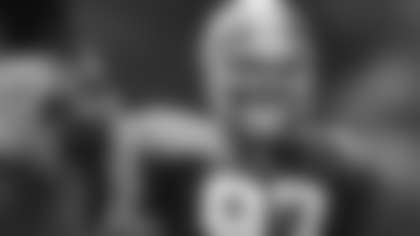 Some backups, like Lorenzo Alexander, moved to linebacker from defensive end. Alexander now starts.
Making the change from a 4-3 to a 3-4 can yield immediate bonanzas or delayed gratification.
In 2009, the Green Bay Packers ditched the 4-3 for the 3-4. In 2008, the Packers ranked 20th in total defense. In 2009? They finished second. That's a success story for the club the Redskins meet on Sunday at FedExField.
The Denver Broncos also managed a quick turnaround in the new alignment. They leaped from 29th in 2008 to seventh in 2009 but they're 16th in 2010.
The Arizona Cardinals, who played a combination of both schemes, went strictly 3-4 in 2009. They dropped from 19th to 20th and they're 29th this season. The San Francisco 49ers, 13th in 2008 playing the 4-3, slipped to 15th in their first year as a 3-4 team and now they're 21st.
An NFL season is short. Just 16 games. Learning curves don't always heed the schedule.
"The biggest obstacle we felt going through it last year was communication because it is a complex system but it's a system that has great flexibility as you want to attack the offense," Packers coach Mike McCarthy says. "Just the communication as the season went on, we were able to improve, so I think that's a pretty natural progression when you're putting in a new system. We had a few bumpy moments there, no doubt."
The Redskins showed more discipline in the 17-12 victory over the Eagles, holding a potent (though Vick-less) group to one touchdown. They've tightened up against the run.
Now they turn their attention to the Packers, who have offensive line problems, a hole at running back and the NFL's 18th-ranked offense.
"You just continue to work," says cornerback Carlos Rogers. "We've got a good team and better players than since I've been here. We just have to put it together on the field."
---
Larry Weisman, an award-winning journalist during 25 years with USA TODAY, writes for Redskins.com and appears nightly on Redskins Nation on Comcast SportsNet. Read his Redskinsblitz blog at Redskinsrule.com and follow him on Twitter.com/LarryWeisman.