CEI to Deliver HD Programming Capability
LOUDOUN COUNTY, VA – The Washington Redskins have announced that they have chosen Daktronics to design, manufacture, and install high resolution video boards at FedExField. The club also announced it has selected Communications Engineering, Inc. (CEI) to upgrade and expand the stadium infrastructure so it can manage HD programming and the multiple options that will be available with the new boards. Team officials estimate the total cost of the technology project to be $20 million.
Daktronics, which has scoring and display equipment operating in 29 of 32 NFL venues, has begun the construction of the high resolution video boards that will be 28 feet high and 100 feet wide. That's three times larger than the Jumbotrons being replaced. In addition, for the first time at FedExField, ribbon boards adjacent to the end zone displays will be installed.
"The Washington Redskins have accepted the challenge issued to all NFL Teams by Commissioner Roger Goodell -- to make the game experience inside the stadium better than watching football at home," Redskins Chief Operating Officer David P. Donovan said. "The addition of the video boards and state-of-the art production capabilities are the most significant improvements to FedExField in the last decade. Our fans will be close to the action from every seat in the stadium."
Daktronics will install 15 mm video technology for the main video displays. The high resolution, wide-screen displays will replace the existing traditional (4:3 aspect ratio) boards video displays as well as two static end-zone displays. Daktronics video technology provides incredible wide angle viewing for better visibility for more fans, increased contrast, and superb image clarity with the ability to display 4.4 trillion shades of color.
The four digital ribbon displays that will be adjacent to the end zone displays will each measure approximately four feet high and 30 feet long. Daktronics' ribbon displays can show game information and real-time team and player statistics, animations and video. They can also be used in a variety of creative ways to recognize and activate sponsors, as well as to encourage fan response.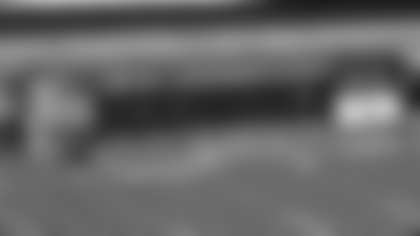 Ongoing construction. (Ned Dishman Photo)


"The upgrades to FedExField will provide Redskins fans with even more excitement and entertainment value each week," said Jay Parker, National Manager of Daktronics Large Sports Venues division. "We look forward to a valued partnership with the Washington Redskins with a commitment to long-term service."
Also included in the upgrade project are Daktronics' timing system and game clocks, video image processing technologies and the new Show Control system. The company's video processing system is touted by experts as the best in the industry because it can process and scale live and recorded video signals into vivid digital imagery on large displays.
The Show Control system is one of the latest developments from Daktronics, providing a power combination of control software, data integration, and playback hardware that forms a user-friendly production solution.
The new system being installed by CEI, located in Newington, Va., will include the ability to receive and record video and audio feeds from network television production trucks, as well as video signals from the dedicated replay system, wireless cameras and other external audio and video sources.
CEI will be responsible for project management, space planning, final design, equipment procurement, systems integration, interfacing with the new Daktronics video boards and data processors, installation, testing, and training for the HD upgrade.
The key components of the project include: Apple edit system upgrades; Click Effects multi-channel HD clip server system; EVS slow-motion video system upgrade; Evertz multi-viewer system; GMS wireless camera system; Grass Valley servers; Harris video routing equipment; Image Video tally system; LG and Planar HD displays; Sony HD cameras with Fujinon lenses; Sony HD video recording and playback equipment; Ross production switcher upgrade; Tektronix video monitors; Wohler audio monitors; truck dock fiber-optic upgrade; and new operating consoles.
"CEI currently works with the Redskins, including our responsibilities to handle game-day operations for the broadcast and audio-video systems at FedExField. We have developed a strong relationship with the management and have a good understanding of the systems and requirements at the stadium," said Frank Giliotti, Vice President of Technical Services for CEI. "The HD upgrades to the systems and infrastructure, combined with new video boards and other additions, will greatly enhance the fan experience at the stadium and provide the Redskins with one of the best game environments in the NFL."
The HD upgrade project is expected to be completed by late summer of 2010.
---
Washington Redskins and FedExField
-- Daktronics has been selected to design, manufacture and install video boards for both end zones at FedExField.
-- Each board will measure 28 feet high and 100 feet wide. That's three times larger than the Jumbotrons being replaced.
-- In comparison to consumer televisions, the display is equivalent to a 1200 inch diagonal screen.
-- It would take approximately 675 flat panel televisions (at 37 inches each) to fill the area of one of the new end zone boards.
-- Communications Engineering (CEI) will upgrade and expand the FedExField control room and stadium infrastructure to manage the HD programming.
-- The video boards will communicate in "real time" with no transmission delays.
-- The LED (light emitting diode) technology provides superior brightness even in direct sunlight and can show up to 4.4 trillion shades of color.
-- More than 3.1 million individual LED pixels will illuminate the images on the two displays.
-- The boards require 21,400 feet (or 4.1 miles) of wiring.
-- Fans will have super-wide viewing angles for more visibility. The angles exceed 160 degrees horizontal (greater than 80 degrees on each side off center).
-- Each end zone display will weigh approximately 34,000 pounds.
-- Project includes installation of Show Control System to enhance production values, event management and control of the multiple displays options that are available.
-- Daktronics will also install eight digital ribbon boards with four adjacent to the new end zone displays. Ribbon boards can be used to add game excitement, out-of-town scores, fantasy statistics and offer in-game promotions to fans.
-- Other technology enhancements include new game clocks, play clocks and replacement of other in-stadium video displays.