The Redskins.com crew breaks down the key players and matchups to keep an eye on during Sunday's Redskins-Eagles 2016 Week 6 showdown at FedExField in Landover, Md.
"Redskins-Eagles: Ingredients For Victory" is presented by Papa John's.
Every Monday after a Redskins game, get a Large Cheese Pizza for just $9.99. Receive a FREE TOPPING for every Redskins touchdown. DOUBLE THE FREE TOPPINGS when the Redskins win!
---
OPEN UP THE PASSING GAME**
It will be tough to offset the loss of Jordan Reed (concussion) if he can't go on Sunday, but the Redskins have the weapons and the talent to continue performing at a high level on offense.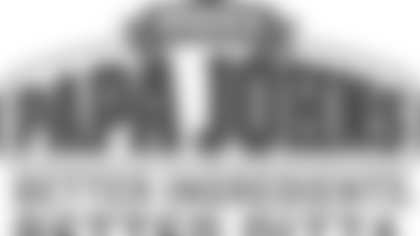 That starts with quarterback Trent Williams, who is no stranger to success against the Eagles. In three starts against Philadelphia, Cousins has thrown eight touchdowns to just one interception and has thrown for at least 290 yards in each contest.
This time around, though, he's facing a defensive unit now led by Jim Schwartz. They're aggressive (14 sacks) and stout (allowing just 266 yards per game).
"Defensive line, secondary, everything, they're different," Redskins head coach Jay Gruden said. "Some of the same players that are good players, but their scheme is totally different. It'll be a different approach, how you attack them, how you get after them, and we'll see how we do. But he has good success against Philly last two or three times, which is a good thing, but this a different deal."
Without Reed in the lineup, the Redskins could target Jamison Crowder more frequently. Jackson has had quite a bit of success against his former team in the past (283 receiving yards in three appearances). But the three-time Pro Bowler hasn't had his number called as frequently as he – or even the coaching staff – would like as he has just four receptions for 40 yards in Washington's last two games.
"I've never really wished I got it to him less," Cousins said. "I always come away from games saying, 'If we had just gotten him the football more…' But at the same time, I've got to go where my reads take me and stay disciplined to that, otherwise I'll get myself in trouble in the long run. But we're always going to find ways to get him involved."
As for the tight end position, the Redskins will incorporate Vernon Davis and Niles Paul into the game plan more with the starter out.
Davis has 10 receptions for 91 yards this season, but believes this week he was able to get to know Cousins just a little bit better.
"I've had a great opportunity to stay out afterpractice and build some chemistry with Kirk," Davis said. "And not just after practice, but within practice. The more time we spend, the better it is for us to be able to connect and cultivate that relationship that you need to have on the field."
As the Redskins worked their way out of an 0-2 hole with back-to-back wins, not everything was clicking for the defense after allowing 47 combined points in those wins. However, in last Sunday's 16-10 win over the Ravens, there was no doubt the Washington defense was the reason the team moved over .500.
The Redskins did an outstanding job of making the Ravens one-dimensional as Baltimore attempted 47 passes while running the ball just 19 times. Baltimore's Joe Flacco was able to complete 30 passes, but for just 210 yards – a miniscule average of seven yards per completion.
"You can pin your ears back and go earn the pay check out there," Redskins defensive lineman Ziggy Hood said. "When you put an offense back into one dimensional – there's some cash out there that's going to be made. And that's what we did. Hopefully we can build off of that and take it into this week."
Coming to FedExField this week is a Philadelphia team that ranks third in the NFL with a scoring average of 28.8 points per game. Rookie quarterback Carson Wentz has been everything the Eagles could have asked for, completing more than 67 percent of his passes while throwing seven touchdowns to just one interception. The latter of those three statistics stands out as the most important. Philadelphia has turned the ball over just twice in four games – the only team better in that department is the Minnesota Vikings, which have given it away just once. The Redskins defense, meanwhile, is tied for eighth among NFL teams in takeaways with nine.
Arguably the biggest reason for Washington's success defensively last week was third downs. The Redskins limited Baltimore to just three third-down conversions on 15 tries, easily the best mark in a game this season for Washington, which still ranks last in the NFL in the category. Defensive coordinator Joe Barry says that nothing changed in the team's preparation regarding third downs, but that the Redskins continue to take pride in getting better.
"We put great emphasis on third down and situational football every week," Barry said Thursday. "It wasn't like last week we were like, 'OK guys, we really have got to play better – we really have really got to pay attention to third down now.' We take great pride both as a coaching staff and our players of daily improvement.
"So to say why last week, we just went out and executed. We played well, we tackled well, we hustled well. But I think from a preparation standpoint, we prepared like we always did last week, just like we're going to do today, just like we did yesterday."
WIN THE SPECIAL TEAMS BATTLEAlready this season, the Redskins have earned two NFC Special Teams Player of the Week awards, while kicker Dustin Hopkins double dipped on the accolades with an NFC Special Teams Player of the Month selection for the month of September.
Whether it is the fact Hopkins is 13-of-14 on the season to date (his only miss was a 58-yard attempt into the wind against the Ravens) or Jamison Crowder leading all qualifiers in average punt return (27.7 yards), the Redskins have gained an edge with their special teams unit so far this season.
"Players are making plays," Gruden said this week. "They're buying into what they're supposed to do. The leader of that room, Niles Paul, is doing a good job of holding everybody accountable. Jamison Crowder obviously has been a dynamic guy back there as a punt returner and he has confidence that guys are going to get blocks for him. They're not going to block everybody, but he can make a couple people miss and he feels good about catching the ball and having room to work. Obviously the coaching staff has done an excellent job with Coach [Ben] Kotwica, [Bradford] Banta and [Bret] Munsey giving good looks and being sound in what we do. Guys are making plays."
It's a trend they need to continue on Sunday against an Eagles team that features the dangerous Darren Sproles at punt return and Josh Huff as the primary kick returner.
Even though Sproles is average just six yards per return this year (if that were to stand for an entire season, it would be a career-low), he can take one back at any moment, as he has seven punt return touchdowns in his career.
"One guys' not going to defend him," safety Deshazor Everett said. "I might get down there first, I'm not sure I'll be the guy to make the tackle. My job is to slow him up, make him go one way so I count on the other guys to be there if I do miss that tackle. He's definitely one of the most talented returners in the NFL  and he has been for many years. It's definitely going to be a challenge for us as a group."
WHAT'S THE COMBO?
The Redskins' offense has been striving to become more balanced. Finding success on the ground, however, has been a challenge at times.
The team only averages 86.4 yards per game, 4.1 yards per carry and has scored just three rushing touchdowns. In its best rushing performance of the season against the Browns, Washington had 163 yards in Rob Kelley' only game with more than 100 yards so far this year.
But against the Ravens in Week 5, Jones struggled on the ground, only gaining 31 yards on 14 carries and giving up a fumble. A rare bright spot came from rookie Rob Kelley, who had a strong performance gaining 18 yards on three carries, including an impressive 16-yard run. Kelley has shown improvement through the first five weeks and the entire team has taken note.
Kelley's success will result in him most likely getting increased opportunities to share the load with Jones and fellow back Chris Thompson. Using him against the Eagles could be critical to insuring the offense sustains long drives.
"Well, I think it's one of those deals where [Kelley's] gotten more comfortable with the more carries and opportunities that he's gotten over the last couple weeks," offensive coordinator Sean McVay said." I thought you saw him make a great run against Baltimore last week on the 15-yarder where [he] kind of had a 'man'-type play. He cut the defense in half and he did a good job of leveling off. I think he's a nice complement to Matt [Jones]. I feel really good about those three backs that we're really using with the addition of Chris [Thompson]. Rob's a guy that we're excited about. He's continuing to grow and learn as a rookie just like they all are. He's a guy that I think if he does get some more opportunities you'll see that confidence grow as the season progresses."
Kelley feels that he knows what he needs to do to grow that confidence not only in himself, but in the rest of the offenses' belief that he is up to the task of an increased workload.
"Just go out there and don't make mistakes," Kelley said "Let the guys know they can believe in me and put me out there and know they don't have to worry about me messing up and stuff like that."
The Eagles defense is third in the league against the rush, which will make creating an effective attack that much more of a challenge. But Kelley's emergence as a viable threat should provide even more opportunities for the Redskins to be productive on the ground.
"[Kelley's], I think, a talented running back," Kirk Cousins said. "He seems to always make productive runs and rarely has negative runs. I think he's stepped up well each time he's been in there. As a rookie, you kind of take big steps forward each time you get out there because it's such a new challenge. I have a lot of confidence in him and he continues to seem more and more comfortable each week."