Heading into the 2019 season, the Washington Redskins had high hopes for their defense.
With the offseason additions of All-Pro safety Landon Collins and experienced middle linebacker Jon Bostic to an already young and talented unit, head coach Jay Gruden was confident the group could help pick up any slack left behind by the offense.
"Defensively, I think we have a chance to be special," Gruden said ahead of the team's season-opener in Philadelphia. "We're very encouraged by them. If we have to win 17-13, we'll win 17-13 with a great defense."
The unit got off to a promising start against the Eagles, allowing just seven points before halftime. In Philadelphia's five drives through the opening two frames, three ended in five plays or less. And, if you take away the 51-yard touchdown catch from wideout Desean Jackson, they totaled 73 yards of offense.
But then problems started to arise. A second 50-plus-yard touchdown throw and two time-consuming drives in the second half -- orchestrated by quarterback Carson Wentz -- resulted in an 18-point swing after halftime that the Redskins could not recover from.
Since then, Gruden's expectations still remain to be seen.
A big part of the defense's shortcomings has been the result of failing to get in the backfield. In Washington's first two games, only linebacker Montez Sweat and nose tackle Daron Payne recorded an average distance from the quarterback in pass rushes that were below the league average of 4.5 yards. The defense as a whole registered just five sacks, which is 23rd in the NFL.
The statistics help shed light on why opposing offenses have found such success, seeing that both Wentz and Dallas' Dak Prescott often had ample time and space to distribute the ball. The two divisional quarterbacks combined for 574 passing yards, while the two teams accumulated a net of 336 yards on the ground.
To try and resolve these issues, defensive coordinator Greg Manusky decided to make a change in his unit's formation in the trenches Monday night against Chicago. Specifically, Manusky instituted a five-man front -- five defensive linemen positioned on the line of scrimmage -- at various points during the game in an attempt to create quicker and more consistent action in the backfield.
"It was a way to get the big guys on the field -- our most-talented guys -- get them matched up, try to get more one-on-ones up front and get more pressure," Gruden said when asked about the defensive alignment Tuesday.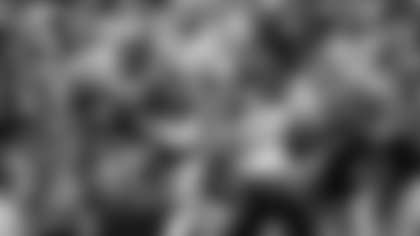 At least in terms of pass rushing, the scheme paid off. Defensive end Matt Ioannidis and linebackers Ryan Kerrigan and Sweat all produced average distances inside the 4.5-yard mark. As a whole, the Redskins garnered a season-high three sacks.
"[With] a lot of zone-read type things...to be able to stop that, you get a lot of one-on-one's up front," said Bostic, who played all 66 defensive snaps Monday. "You know the ball's coming out fast with some of these RPO types of offenses. That's what Chicago was."
Despite its worth, the five-man front came at the expense of other defensive players.
For example, rookie middle linebacker Cole Holcomb played 47% of the snaps in Week 3 after partaking in 90% and 68% of them in Week 2 and Week 1, respectively.
"It took me off the field," Holcomb admitted. "If [defensive coordinator Greg Manusky] wants to put a package in, he's going to [find] something that has an effectiveness to it. I was just going to let him do this thing."
Either way, the pressure up front did not improve the Redskins' scoring defense. Quarterback Mitchell Trubisky still went 25 of 31 for 231 yards and three touchdowns, as the Bears stormed out to a 28-0 lead in the first 30 minutes and rode their early dominance to a 31-15 victory.
"We're getting pressure," Gruden said. "Unfortunately, we lost on a couple crossing routes. We lost on a pick route. We have to do a better job of combination coverage from time to time, knowing where your help is and making sure we don't get picked. This is every week that this is going to happen."
For defensive end Jonathan Allen, the unit's struggles are all self-inflicted. "If you look at the film, we're just not getting a pass rush, we're letting guys run wide open," he said. "We've got to find out where the lack in communication or physicality or effort is, and we've got to fix it."
Whether it be by using various schemes or just improving their performance, Allen remains optimistic the defense will turn itself around.
"We've got to do the small things right and we'll be fine," he said. "It's not time to jump off ship."