The Washington Redskins Charitable Foundation, with the help of tight ends Niles Paul and Logan Paulsen, hosted a flag football kickoff event for Special Olympics Virginia.
As the Loudoun County chapter of Special Olympics Virginia looked for a good venue to promote their latest sport, flag football, the Washington Redskins Charitable Foundation stepped in to offer a logical platform – Redskins Park.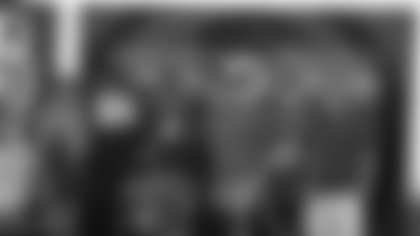 Sunday afternoon, 50 Special Olympics participants aged 8-19 filed into the team's indoor training facility to test their football skills and kick off the upcoming fall season in grand, exciting fashion.
Tight ends Niles Paul and Logan Paulsen joined the large group, which became just the second flag football team in Virginia (another plays in Richmond), and offered some counsel, some laughs and plenty of high fives.
"We had a contact with the Redskins and to see how we could work mutually together," Mickey Kasen, a chairwoman for the Loudoun County chapter, said. "We always try to open up the door for new sports and new athletes. People don't even know about Special Olympics. A lot of people think it's a one-day event like the regular Olympics, but it's year around."
She's hoping events like this, which draw out families and other volunteer groups and connect them with Special Olympics and the Redskins community, help bring more awareness to the organization that hosts up to 15 events over the course of three to four seasons year-round.
"It's such a big part of Loudoun County that they've always asked for it, and always wanted to do it," said Caitlin Marcotte. coordinator for the Loudoun County chapter.. "It kind of fell together this year that we found a coach and volunteer staff and make this partnership with the Redskins and this all fell into place perfectly. We're excited about it."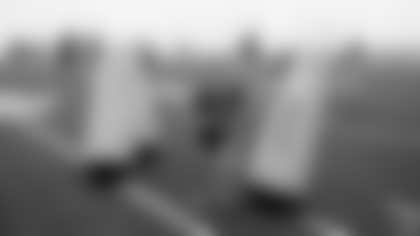 After a brief introduction, and a brief explanation of how to attach the flags around each player's waist, kids were split up into three groups to try various drills and activities. Those involved a running backs station, a wide receiver station and a small obstacle course to plow through.
Paul camped out at the receiver station, throwing "dimes," as he called them jokingly, to receivers.
"These kids don't care who you are," Paul said. "They don't care if you're Robert Griffin or the 53rd man on the roster, just as long as you're out here with them to play football. That's all we care about. To see the joy it brings them is crazy…Now they get to say they had pros teach them how to play football."
Volunteers from Young Men's Service League, which pairs moms and sons together to donate their time, helped with the different football activities, encouraging the youngsters to complete the drills and show off some touchdown dances.
"It makes a really big impact, especially when the players come out and it's not something a lot of people get to do," Marcotte said of the extra support. "Its something really special and adds to it.  They're already big fans, so some of them were pretty star struck."
Paulsen might be partly responsible for that, but noted that the kids running around would have been thrilled no matter who showed up.
"They have this unabashed joy," he said. "They're just really happy, they're so happy to be out here… I hope it's really instrumental in kicking it off. I hope the event builds steam and people really rally behind it."