The Redskins.com crew breaks down the key players and matchups to keep an eye on during Sunday's Redskins-Ravens 2016 Week 5 showdown at M&T Bank Stadium in Baltimore.
"Redskins-Ravens: Ingredients For Victory" is presented by Papa John's.
Every Monday after a Redskins game, get a Large Cheese Pizza for just $9.99. Receive a FREE TOPPING for every Redskins touchdown. DOUBLE THE FREE TOPPINGS when the Redskins win!
---
KEEP JONES GOINGFor the first time since Week 2 of the 2015 season, Washington Redskins running back Rob Kelley topped the 100-yard rushing mark last Sunday against the Cleveland Browns, collecting 117 yards on 22 carries, punctuated by a one-yard touchdown run in the fourth quarter.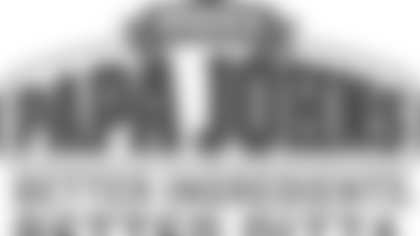 But Jones' recent success extends back to the second half of the Redskins' Week 3 victory over the New York Giants, when he ran for 61 yards on 13 carries.
Facing the No.1-overall defense in the NFL on Sunday against the Baltimore Ravens, Redskins offensive coordinator Sean McVay says it's going to take a "collective effort" to overcome the tall task that faces the running game.
 "It takes all 11. Starting with Kirk being able to make sure that we're in the right runs versus some looks that we want to be able to run the ball against, then the line being able to block it up – perimeter blocking, and then the back reading it out, and pressing it downhill," McVay said. "And I think that's what you've seen Matt do over the last couple of weeks, specifically like you mentioned the second half of the Giants game and then the entirety of the last game. So that's the key for him. I think being able to stay healthy, I think those other backs when we bring them in are a nice change of pace for him when he does have a bunch of work like that. So I've been really pleased with what he's done over the last game and a half and we're expecting the same from him on Sunday."
So far this season, the Ravens have allowed 320 rushing yards, although 85 of those came from Browns running back Isaiah Crowell on a Week 2 touchdown run.
"I think the key over the last couple of weeks, which is why we've been able to be a little bit more successful, a little bit more balanced on some of those early down and distances, is because we've been able to be efficient on first down, both running and throwing the football," McVay said. "And that's obviously a key for success for us and we want to be able to continue to do that."
STOP THEM ON THE MONEY DOWN
The Redskins are aware that they have struggled stopping opponents on third down. However, the extent to which Washington's defense has struggled in the situation is staggering. Opponents have converted 27-of-47 third-down plays against the Redskins this season – a 57.4 percent clip. That mark is currently worst in the league through the first quarter of the season. The next closest team is the Detroit Lions, which have allowed first downs on 47.1 percent of third-down plays.
There are multiple reasons as to why third down has been an issue, notably the run defense and tackling – two things that go hand in hand. In his press conference before Thursday's practice, defensive coordinator Joe Barry expressed the frustrations that he and the defense are currently going through.
"Third downs, we lost eight third downs," Barry said. "There were three third downs that we were off the field, but we missed tackles also on third down. And third downs, to jump into that, that's really talking about winning the one-on-one matchup. Whether it's being a pass rusher winning a one-on-one pass block, whether it being a (defensive back) or a linebacker winning the one-on-one coverage on third down… Winning that one-on-one, me as a player making a play against another player, whether it's an open field tackle, or, again, whether it's the ball in the air in one-on-one coverage, or it's a pass rusher simply rushing against an offensive lineman, whipping my man before the quarterback throws the ball, that's what tackling is all about and that's what third downs are all about – winning that matchup, winning that one-on-one matchup – and we have not consistently done that."
Barry addresses a ton there, which illustrates how much is going on during each play of an NFL game. Each one-on-one matchup is important and opposing teams have taken advantage when the Redskins haven't won certain matchups.
Stopping the run more effectively on early downs could also help. The Redskins have allowed the second-most yards per carry in the NFL this season, setting up shorter yardages to convert on third down. Linebacker and defensive captain Will Compton didn't mince words regarding the Redskins' run defense.
"It has been not so good," Compton said bluntly when asked if it seems the team has struggled against the run. "It is what it is. We've been bad against the run. We've got to play better. We've got to tackle better. We've got to play violent – more violent – in the run game. We've got to have guys restricting running lanes for the guys that are trying to make the tackles. We need everybody getting off blocks and helping the guy out that's trying to make the tackle. It's a collective thing.
"We're going to get it corrected."
The Ravens rank just 25th in yards per rush this season, but running back Terrance West is coming off a game in which he ran for a career-high 113 yards against the Oakland Raiders.
STAY SHARP IN THE RED ZONE
After managing just three touchdowns on their first 14 red zone appearances to start the 2016 campaign, the Redskins scored four touchdowns inside the 20-yard line last Sunday against the Browns.
The first two of those touchdowns came in the first quarter, when Trent Williams and Jordan Reed got in-sync against a Browns defense that didn't prepare quite right for the start tight end.
"I think it was the defense and what they called on," Reed said last Sunday. "I feel like they didn't double team me on that first one I caught and that allowed me to go one-on-one with the safety. They like that matchup and Kirk gave me a chance."
Later on in the afternoon, Cousins found Chris Thompson for a five-yard touchdown (capping off a 91-yard drive) before Jones' one-yard scoring scamper.
As the Redskins seek to continue producing points in the red zone, they face a defensive unit that has allowed opponents to convert on nearly 90 percent of their appearances inside the 20-yard line.
"Each play has its own reason for why it was successful, but it's great to see us get down in the red zone and then be able to finish those drives," Cousins said. "It certainly does make a big difference in the final outcome of the game."
FRUSTRATE FLACCO AND CO.
There is no doubt that the Redskins defense is in for another big challenge this week. But unlike Week 4's 31-20 win over the Cleveland Browns, protecting against the pass will be a crucial and difficult part of this game for Washington.
The Ravens passing attack starts with quarterback Joe Flacco and veteran wide receiver Steve Smith Sr., who leads the team in receptions through four games with 24 for 281 yards and a touchdown.
Smith Sr. is known for being a tough-nosed receiver, and despite currently being in the midst of his 16th NFL campaign, the Redskins understand how big of a threat he is on gameday.
"He's like a defensive foe, but on offense," cornerback Josh Norman said. "That's what he is. He's a guy that's going to take you out your game, mentally and physically, and he's going to let you know about it after the fact. That's what he does. My type of guys."
But Smith Sr. isn't the only weapon of Flacco's that the defense needs to keep an eye on.
Wide receiver Mike Wallace and tight end Dennis Pitta are both strong presences as well and give Flacco a variety of options. Wallace has been successful at catching long passes downfield, with 14 receptions for 210 yards and three touchdowns. The team's longest catch of the season, 66 yards, went to Wallace and he has emerged as a serious deep threat, despite being in only his first year with the Ravens.
Pitta, on the other hand, has come back from injuries to become one of Flacco's favorite targets all over the field. Second on the team in receptions with 21 for 200 yards, he has shown this year why he is such a good receiving tight end, despite the time off, and averages 9.5 yards per reception.
The trio will be another big test for the Redskins secondary that has seen significant turnover already this season with the amount of injuries it has had to deal with.
"We know what we are going to get out of Steve, just competitive and timeless. Hall of Famer, no question about it," safety Will Blackmon said. "With Mike Wallace, his speed down the field, he can run too. Then they got [Dennis] Pitta back, he's healthy. Obviously Joe has one of the best arms in the league. It's going to be a great challenge, and we're excited for it."
The Ravens' tendency to pass first has Flacco currently ranked third in passes attempted and passes completed in the league with 170 and 108, respectively. While stopping running back Terrance West will be an incredibly important task, effectively creating turnovers and drawing Baltimore into mistakes will be a big step to winning the game against a quarterback who has as many touchdowns as he does interceptions (four) this year.