The Redskins.com crew breaks down the key players and matchups to keep an eye on during Sunday's Redskins-Vikings 2016 Week 10 showdown at FedExField in Landover, Md.
"Redskins-Vikings: Ingredients For Victory" is presented by Papa John's.
Every Monday after a Redskins game, get a Large Cheese Pizza for just $9.99. Receive a FREE TOPPING for every Redskins touchdown. DOUBLE THE FREE TOPPINGS when the Redskins win!
---
COLLECT POINTS IN THE RED ZONE
Yes, the offense can put up the yards in bunches and quickly march up and down the field. But the unit has bogged down far too often in the red zone, converting just 40 percent of appearances into touchdown scores. The Redskins' 30th ranking in the red zone is only better than only the New York Jets and Houston Texans.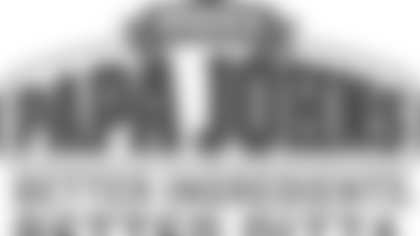 The Redskins' struggles are particularly noteworthy on third down attempts inside the 20-yard line, as the team only has four touchdowns on the decisive down this season.
"Our third down in the red zone is not very good, so there's some things there that we can correct," Redskins head coach Jay Gruden said this week. "But I do like a lot of our drives. We've been able to maintain some drives, converting some key third downs, moving the ball. I think we've had the most attempts in the red zone also, which is good. We're moving the ball, we're keeping the defense fresh."
As the Redskins try to piece together yet another late season run to the postseason, the hope is that they can match 2015's red zone success when nearly three of five trips inside the 20 resulted in a touchdown.
"Well, we have to go out there and score touchdowns," wide receiver Rob Kelley said. "Got to score touchdowns in the red zone, got to score touchdowns to make teams score touchdowns against us [in order to keep up]. So as an offensive group, that's what we want to see for the second half of the year."
So what exactly are some remedies for the situation? Well one could be extending plays and going off-schedule when everything breaks down.
"At times when we do get zone coverage, we just have got to be able to hit the throws, or as I said if everyone's covered, just be able to – if you can – make a play off-schedule," quarterback Trent Williams said. "We've been able to do that against Cleveland and if we can do that again, that would certainly be a positive and would help us be more productive down there."
MAINTAIN SUCCESS ALONG THE OFFENSIVE LINE
Perhaps no unit has succeed more with the next man up mantra this season that the offensive line. Take the team's Week 3 victory over the New York Giants as proof. Spencer Long stepped in for an injured Trent Williams while Trent Williams slid over to left guard – for the first time in his career mind you – in place of an injured Shawn Lauvao and Ty Nsekhe manned the left tackle position.
Since that game, Long has taken over as the team's starting center and Arie Kouandjio not only made a start, he saw some time at right guard against the Lions after Brandon Scherff briefly exited the game.
Washington's offensive line depth will be tested yet again this week, as Williams will serve the first game of his four-game suspension.
In his place will be Neskhe, who has fared well in spot appearances but will be asked to step up over the next quarter of the season.
"Well, I approach it like I approach every week, with full confidence in my abilities, taking practice like a time to perfect my craft," Nsekhe said. "Nothing changes for me, it's just the opportunity now. I'm going to take full advantage of the opportunity."
Morgan Moses, meanwhile, is questionable for the game with an ankle injury. Behind him are Vinston Painter and the recently signed Blaine Clausell. Painter has three regular season appearances under his belt – all coming with the Cleveland Browns in 2014 while Clausell has never been active for a regular season game.
"Oh, yeah, he got a lot of reps, especially on Wednesday when Morgan couldn't go," Gruden said of Painter. "He got a lot of reps. It's been good. He had a lot of good work this week."
(Stephen Czarda)
DIG IN AGAINST MINNESOTA'S TOP WIDEOUT
Stefon Diggs caught 52 passes in 2015, his rookie season. Halfway through the 2016 campaign, and Diggs already has caught 48 passes. The Maryland product has become the clear No. 1 target in the Vikings' passing game orchestrated by quarterback Sam Bradford.
"I think the guy [Bradford] really likes is [No.] 14 [Stefon Diggs]," Redskins defensive coordinator Joe Barry said. "That kind of is his comfort."
And with good reason. After topping 100 receiving yards twice in 2015, Diggs had more than 100 yards in each of the first two games this season, including a career-high 182 yards against Green Bay in Week 2. However, in Weeks 3 through 8, Diggs's production dipped. His 76 yards in Week 8 were the most over a span of four games while he also missed the Vikings' Week 5 game against the Texans.
However, it appears the way the Vikings' usage of Diggs has changed. Following the Vikings surprising loss to the Bears on Halloween, offensive coordinator Norv Turner resigned. That has moved former Cleveland Browns head coach Pat Shurmur into the play-calling role.
In Shurmur's first game in charge, Diggs caught 13 passes for 80 yards. He had never caught double-digit passes in a game before. His 6.2 yards per reception was the lowest in any game Diggs had caught more than four balls in.
When asked about the incredibly low yardage total for Diggs despite 13 catches, Shurmur replied, "I don't know. I don't keep track of those things."
"He's a quick change of direction," Shurmur added regarding Diggs. "He has got quickness. He can certainly run deep. So, yeah, we can utilize a good route runner, and you need to be able to do all those things if you're going to get open in underneath coverage."
Washington's top cornerback -- Josh Norman -- is still feeling the effects of a hand injury from earlier this season, but will likely see the majority of the snaps guarding Diggs. Expect Norman to be physical with Diggs if the Vikings continue to rely on the short-yardage passing game. Although Diggs has proven that he can be a deep threat, his longest reception last week was 12 yards.
FEED FAT ROB
After seeing increased workloads week after week, Rob Kelley has established his place as the starting running back for the Redskins.
Kelley will be getting his second start at the position against the Vikings on Sunday.  The rookie went undrafted out of Tulane and was signed by the Redskins in May. After progressively getting more opportunities over the course of the season, he has now been given the chance to show off what he can do with significant carries on a consistent basis.
"Right now Kelley is our first-string running back," Jay Gruden said 'When we start the game it'll be Robert and then we'll go from there and we'll decide the rest of the group later on. And then Chris Thompson obviously is penciled in as the third-down guy and No. 2. So after that we'll make a decision."
Kelley originally earned his spot on the active roster to start the regular season after a solid performance in the preseason. While he entered the regular season behind Rob Kelley and Chris Thompson, Kelley has been getting more time on the field than anyone expected due to the injuries Jones has experienced and what Kelley has shown on the field.  Earning the starting role above the older players even caught him a little off-guard.
"Coming in undrafted, it's always something you think about and bring yourself back down to Earth and not try to get to far ahead of yourself," Kelley said. "I'm happy with how far I've came." 
So far this season, Kelley has 190 yards on 38 attempts and one touchdown, which he scored in his first career start against Cincinnati. Being given the starting role again this week shows the trust the team has in him to carry the ball consistently and effectively, especially with the offensive line experiencing change as it prepares to play its first game without Trent Williams, who is serving a four-game suspension. While his success may have been unexpected to start the season, based on his recent outings it is clear why the rookie is being given the responsibility this Sunday.
"Last week or a couple weeks ago against Cincinnati was really his first time that he got a bunch of carries and I think you can see he's a strong, downhill runner," offensive coordinator Sean McVay said. "(Kelley) does a great job when he puts his foot in the ground leveling runs off and finishing falling forward. He's really tough. So, he's a mature young back too. You can see he's just kind of got a nice way about himself where nothing is too big for him and we expect to see him just improve as the season goes along."
Preparing to face a tough Vikings defense that has given up only an average of 93.1 rushing yards per game might seem to be a tough way for a rookie to start only his second career game, especially with the more experienced back, Jones, waiting on the sidelines.
But for Kelley, the plan is just to focus on what he can control and do everything in his power to help the offense score points.
"I try to keep it simple. I try not to get over my head with it," Kelley said. "I'm going to take it as they come. If they need me, I'm going to go. If they don't, they don't."