Redskins.com breaks down the Redskins' roster position-by-position and identifies potential need areas heading into the 2011 offseason. Up next: wide receivers.
When head coach Mike Shanahan and offensive coordinator Kyle Shanahan arrived last year, the Redskins' wide receivers had to be smiling.
Their offenses have proven to be wide receiver-friendly through the years, with many of their pass-catchers hauling in 90 receptions each season.
Santana Moss did exactly that.
He posted a career-high 93 catches for 1,115 yards and six touchdowns to lead the Redskins' offense.
Moss was used more as a slot receiver last season instead of out on the edge. He emerged as a consistent threat, particularly on intermediate routes down the middle of the field.
Anthony Armstrong assumed the Redskins' other starting job at wide receiver in Week 6, replacing veteran Joey Galloway in the lineup. (Galloway was released by the team midseason.)
Armstrong was one of the team's pleasant surprises last year. He impressed coaches as early as off-season mini-camps, flashing good speed and the ability to run deep routes.
Seeing his first NFL regular season action, Armstrong logged 44 catches – third-best on the team – for 871 yards and three touchdowns.
His 48-yard touchdown grab against Green Bay in Week 5, in which he out-leaped safety Charlie Peprah for the ball, was key in the Redskins' win over the eventual Super Bowl champions.
Armstrong's 19.8-yard average was third-best in the NFL among receivers with 20 or more receptions.
Roydell Williams earned a roster spot coming out of preseason, in part because he found a role on special teams coverage units.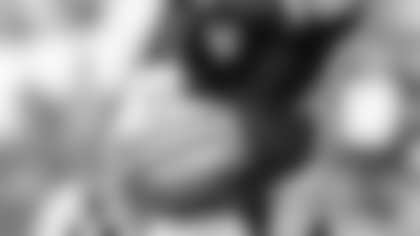 He played in all 16 games -- it was his first NFL playing time since 2007 when he was with the Tennessee Titans.
After Galloway was released, Williams saw action as a third receiver. He had few opportunities, though, catching eight passes for 109 yards on the season.
On special teams, Williams finished with 10 tackles on kick and punt coverage.
Late in the season, Terrence Austin was elevated from the practice squad and the rookie seventh-round draft pick out of UCLA earned playing time as a third receiver.
Austin, who led the offennse in receptions and receiving yards in preseason, finished with three catches for 47 yards in limited action.
Fellow rookie Brandon Banks, undrafted out of Kansas State, established himself as a kick and punt return specialist. He averaged 25.1 yards on kick returns and 11.3 yards on 38 punt returns.
Coaches tinkered with using the 5-7, 150-pound Banks in the passing game – at one point he even lined up as a quarterback in a Wildcat formation.
As a receiver, Banks saw limited action, catching two passes for 10 yards. He was slowed midseason by a knee injury that required surgery, but remarkably he did not miss any games.
Third-year player Malcolm Kelly was hoping for a breakthrough season, but he was sidelined early in training camp with a hamstring injury.
The injury lingered through preseason and later it was diagnosed that he had torn his hamstring.
Kelly was placed on injured reserve on Aug. 31, ending his season before it really started.
Seven-year veteran Mike Furreyjoined the Redskins last offseason to provide depth at wide receiver, but he suffered a concussion during a training camp practice and was placed on injured reserve.
Midseason, the Redskins signed young receivers Maurice Price and Taurus Johnson to the practice squad.
Both were with the UFL prior to joining the Redskins.
POSITIONAL ANALYSIS
Wide receiver appears to be in flux this offseason.
Moss is scheduled to be an unrestricted free agent and it's uncertain if he returns to the Redskins next season. He turns 32 years old on June 1 and coaches may want to continue a youth movement at the position.
Still, Moss was the Redskins' most productive wide receiver last season and it may be difficult to acquire a similar-caliber player.
Moss has said he would welcome a return to Washington.
Armstrong, 28, developed into an NFL-caliber receiver last season, emerging as a deep threat in the Redskins' passing game. He must continue to show development as an all-around receiver in 2011.
Williams impressed on special teams but he may need to show more on offense to earn another year with the Redskins.
Given his 6-4, 226-pound frame, Kelly remains an intriguing prospect, but he must prove he can stay healthy for a full season.
Furrey is a free agent this offseason and his future with the team is unclear.
Austin and Banks hope to earn more playing time on offense in their sophomore seasons. Price and Johnson are good-sized receivers but they remain developmental prospects at this point.
Given the uncertainty with Moss, the Redskins are expected to put a priority on wide receiver in free agency and the draft.
---
Three NFL Tight Ends Eligible for Free Agency
As of Feb. 16, 2011; names listed are in no particular order
-- Santonio Holmes, New York Jets: In five NFL seasons, Holmes has proven to be a clutch performer. He was MVP of Super Bowl XLIII with the Pittsburgh Steelers. In his first year with the Jets last season, he had 52 catches for 746 yards and six touchdowns in 12 games.
-- James Jones, Green Bay Packers: Jones is not a starter for the Packers, but he has been steady for the Packers the last four years. He is coming off his best season, logging 50 catches for 679 yards and five TDs.
-- Jacoby Jones, Houston Texans: Jones is a classic speedster who played for Kyle Shanahan in Houston from 2007-09. He emerged last season, recording 51 catches for 562 yards and three TDs.
Three Wide Receivers Available In NFL Draft
As of Feb. 16, 2010; names listed are in no particular order
-- A.J. Green, Georgia: Green, 6-4 and 205 pounds, is widely regarded as the top receiver in the draft – a potential top five pick. He caught 166 passes for 2,619 yards and 23 TDs in three years at Georgia.
-- Julio Jones, Alabama: At 6-4 and 220 pounds, Jones brings good size and speed. He improved every year at Alabama, logging 179 catches for 2,653 yards and 15 TDs in three seasons.
-- Torrey Smith, Maryland: Smith, 6-1 and 205 pounds, had a breakout year for the Terps, hauling in 67 catches for 1,055 yards and 12 TDs last season. He is a native of Colonial Beach, Va.