Pregnancy is hard enough on its own, but for Nytasha Sims, it coincided with her mother being diagnosed with breast cancer. So, as she prepared for her second child, she did everything she could to support her mom through treatment.
"I say I marked my child because I cried so much about my mom and wanted her to beat it, and she did," Nytasha Sims said. "Here she is 24 years later and still standing and healthy and no signs of cancer."
As for her son, he's in the midst of his second NFL season with the Washington Football Team. Steven Sims Jr. has only known his maternal grandmother as a breast cancer survivor, and about 10 years ago, his dad's mom was also diagnosed. She, too, has since recovered.
"It means a lot to me," Sims told Washington team reporter Logan Campbell. "Ever since high school, I've always gone all out in October with all the pink and stuff for every game, so shout out to them."
Sims, an undrafted rookie out of Kansas, made enough plays last training camp and preseason to warrant a spot on the team's initial 53-man roster. He earned playing time as a kick returner before blossoming into a starting wide receiver by the end of the year. In his final four games, he averaged five receptions for 57.5 yards and scored four touchdowns.
Being an NFL player, Sims now has a national platform to support what he cares about. And when he has had the opportunity to raise breast cancer awareness, he has taken full advantage of it.
In Week 14 of last season, players were able to wear custom-painted cleats inspired by their personal causes as a part of the league's My Cause, My Cleats initiative. Sims, as well as teammates Montez Sweat and Deshazor Everett, chose to promote the Brem Foundation, a local organization predicated on fighting breast cancer. Sims' cleats (pictured below) were pink and white and included both of his grandmother's signatures.
"Definitely have some strong women [in my family]," Sims said. "Some fighters."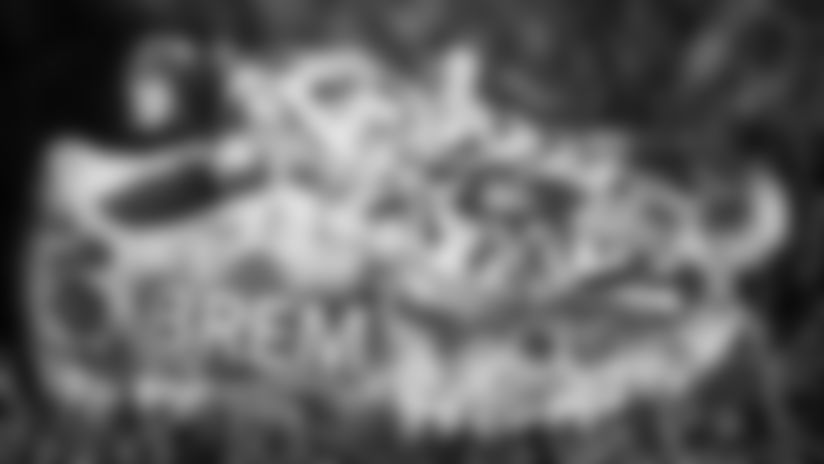 Sims missed this year's breast cancer awareness game with an injury, but he's always been a breast cancer awareness advocate and he always will be. He understands the importance of regular checkups and urges women to go to the doctor if they start to see signs. Even if it's nothing, it's better than not knowing.
He preaches these precautionary measures because he has been associated with breast cancer his entire life. He knows the probability of getting the disease (1 in 8) and the consequences, and he wants women to have the best chance of beating it -- just like his grandmothers did. 
"Your health is very important, so I feel that women and men, we just have to take the initiative and jump on it," Sims said. "Don't be scared to find out the results or anything like that because I feel everything's going to be OK. It's going to work out how it's supposed to."