The Redskins signed cornerback Tajh Hasson on Thursday, adding more depth to the secondary and another athletic player to the roster (he was amultiple letterwinner in track in field during high school).
Hasson played collegiately at UNLV, recording 159 career tackles with 19 passes defensed, five forced fumbles, three interceptions and a sack. He started 13 games in his senior season and posted a career high 47 tackles, becoming a key cog in the Rebels' defense.
You can watch his first, and impressive, interception he grabbed against Washignton State here. 
The signing also means he'll be continuing to live out a dream, one which both his half-brother, Tim, and father, Anthony, have helped form.
Tajh and Tim, who share the same father and are just six months apart in age, were teammates for the Rebels until 2013. But, surprisingly, that was just the first time they had played on the same team together, even after growing up 30 minutes apart in Los Angeles.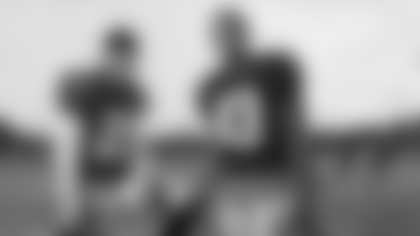 "It means a lot for us to be together on the same team," Tajh told the Las Vegas Sun in 2012. "We always talked about getting this chance to play together. We didn't know it would be at UNLV, but I'm glad this is the place it's happening."
"We are always with each other after practice, talking about plays or what went wrong (on the field) and how we can fix it," Tim said.
What might be more meaningful, now that Tajh has been given an opportunity to make an NFL roster, is that the brothers' father, Anthony may finally get a chance to see his son play in person at the highest level.
Imprisoned for many years, Anthony could only watch his sons play college ball on television. 
"Even though that happened, he is in constant contact with us. It's weekly, almost daily to stay on top of us and make sure we don't slack off," Tim, who played linebacker, said at the time. "He has made sure [our family] stayed together and keeps everyone close."
Their conversations over the years have given Tajh and Tim a better understanding of their father and how to approach life so they don't end up in the same situation.
Photo Credit: Las Vegas Sun