If you weren't aware that defensive lineman Terrance Knighton was on ESPN's Sports Nation on Friday, I can't blame you.
Unlike safety Duke Ihenacho, who appeared on the show last week, Knighton didn't broadcast the news, take any photos backstage or share any of his experiences in Bristol, Conn. That's because Knighton doesn't use social media anymore (hence the screen shots).
No Twitter. No Instagram.
"It's hard to quit Twitter and Instagram at the same time," he told Michelle Beadle on the show. "It was almost like I died."
Knighton went off the grid earlier this winter and denied having a fake account. His grandma Googles him every day to make sure he stays out of trouble, he said.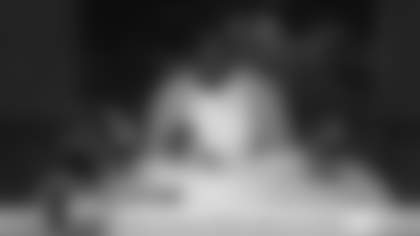 Before his segment, Knighton sat at a table eating some pot roast because of course. He was later introduced with some highlights sacking Tom Brady, and Robert Griffin III, while with the Broncos.
"We talk about it all the time," Knighton said of his sack against Griffin III, now his teammate. "First thing he did was text me, 'I'm happier you're on my team.'"
Then it was time to play the hashtag game, where each panelist put together a word, or a series of words with no spaces (hashtag rules), to describe some recent sports news.
When asked how he would label Cowboys general manager Jerry Jones, who told newly signed wide receiver Dez Bryant the team would win the next five Super Bowls, Knighton coyly wrote "#December7th," as in, the first time this season the Redskins face the Cowboys this season.
"The D-Line, we call ourselves capital punishment," later inferring that that the push on the line will have a ripple effect on the secondary, which, will, in turn, slow down Dez Bryant, which will, in turn, slow down the Cowboys, and, ultimately, disrupt their championship, if not playoff hopes.
Nice to see Knighton already knows the exact date the Cowboys come to town.