By: Jake Kring-Schreifels and Perry Mattern
On Nov. 5, 2006, the Redskins hosted the Cowboys at FedExField and pulled off one of the most remarkable, wackiest victories in franchise history. Ten years later, we look back to that incredible turn of events.
Sean Taylor was running the wrong way. It turned out he knew exactly what he was doing.
With the Redskins and Cowboys tied 19-19 and six seconds remaining in the fourth quarter, Dallas kicker Mike Vanderjagt lined up a 35-yard field goal to win the game. Those in attendance were preparing to head home exhausted and extremely disappointed, about to witness the culmination of series that should have never been.
Just earlier, with 29 seconds left, Washington kicker Nick Novak missed a go-ahead 49-yard field goal. The Cowboys took over and quickly covered 44 yards over four plays to set up a game-winning field goal attempt of their own. Novak could only pray his special teams unit would bail him out and send the game to overtime.
They did something even better.
Vanderjagt's kick never made it past the line of scrimmage. Troy Vincent burst off the right end to block the kick. The ball bounced around towards the Redskins' sideline where a herd of Washington players chased it. Taylor eventually ended up with the football and, instead of diving on it, smartly kept running.
With no time remaining, Taylor scampered roughly 10 yards towards his own end zone before finally turning back upfield. When he did, a huge Cowboys mistake ensued. Offensive lineman Kyle Kosier grabbed Taylor's facemask to draw a flag. Taylor, however, was barely fazed and kept running while his teammates wildly looked to block blue jerseys. Taylor was eventually tackled, but not before he had made it across midfield.
The facemask penalty added 15 more yards, moving the ball to the Dallas 29-yard line, miraculously giving Novak a chance at redemption with an untimed down. This time, Novak snuck a 47-yard kick just inside the right upright. Washington had won, 22-19.
"Gosh," Redskins head coach Joe Gibbs said after the game. "I don't know if I've experienced anything like that."
This is the story of those six seconds.
Kicker Nick Novak's missed field goal set the Cowboys offense in motion. With 31 seconds left, Dallas drove 44 yards from its own 39-yard line, using a clutch 28-yard Tony Romo pass to tight end Jason Witten to set up a potential game-winning 35-yard field goal for Mike Vanderjagt.
Defensive Tackle Kedric Golston:We had an opportunity to win, and we didn't take advantage of it and then they complete a couple of balls and they were in what we call a chip shot, a chip shot field goal.
Safety Adam Archuleta:I was involved in the coverage the play before and I was supposed to get safety help over the top. I did not get safety help over the top. So they completed a long pass to Witten, and I was the underneath coverage, but I didn't get the help I was supposed to on that play. So I was pretty bummed out and disappointed because I thought that might be the play to lose the game.
Running back Clinton Portis: I think you [feel like you] let the game slip away. They had an opportunity and Mike had been a good kicker, a consistent kicker for so long.
Safety Troy Vincent: We were just thinking as you line up, you go through that progression of plays, it's really a chip shot, good conditions, but it's another play. That's kind of the mindset. This is a chip shot for a kicker in the National Football League at that time.
Cornerback Shawn Springs:I was like, man, it was a makeable kick, this is a chip shot for him, he can make it. We've got to put pressure on him.
Redskins radio play-by-play voice Larry Michael: As the hometown broadcaster, obviously you're pulling for the hometown team to win. In that case, it was the arch-rival getting ready to beat you on the final play of the game, which means my presentation would have to reflect the way we were feeling, which was bad, because we were going to lose the game to Cowboys.
FOX television play-by-play voice Joe Buck:It's weird because when you're calling field goals, you can get tricked. A lot of times, I'll just call it off the TV monitor that's in front of me as opposed to looking because our angle is so skewed. You can't really tell – there's no depth. You can't really tell if it's good or not until you watch the official...So you've got a lot going through your head, and you're thinking, 'How are you going to frame it if the Cowboys win?' And all of a sudden – like that [snaps] – it turns and goes the other way.
Vincent:You break the huddle and it was very interesting as I think about, and people ask me about, it often. If Jason Witten was just focused…He really just wasn't ready at the snap of the ball. So I was down, I was ready to go, you're thinking 'Let's go,' and if you look at [Witten's] body language before, you look at his head, you can see that he was actually giving some lip service to a couple folks on the line, and the ball was snapped. I had a good get-off because his head was turned. He wasn't looking at me, the end man on the line of scrimmage. He was looking down because he was giving people some business. I got a good get-off and frankly just had a good angle and a good launch point. The ball actually hit me in my forearm, almost my forearm to my elbow area, not my hands, which told me that I got there even cleaner.
Golston:I remember Danny Smith, the special teams coach at the time. It was a technique that the Cowboys did that he was like, 'I don't know why they teach it this way, but this is the way they teach it and if we take advantage of it, we can block a kick.' So literally, exactly what we had been working on all week worked.
Special teams coach Danny Smith: The night before, we discussed a weakness that we could take advantage of. I went over it with Troy Vincent, who blocked the field goal.
Springs: [Smith] knew that they didn't get back fast enough. He knew that we had a chance and Danny kind of knew that the way the tight end kicked out, we had a chance, we just had to execute the play, and we executed and blocked that kick.
Portis: Playing on special teams, you have to find every advantage point. People always wonder why you put so much time into special teams. To pick up on keys and tendencies that guys do all the time, use that to their disadvantage. You take Jason Witten on the offensive side of the ball always locked in, always keyed in, always making plays, and on special teams, taking it for granted. Jason Witten as a tight end, he's not going to miss that down block, or not get out of his pads. But all of a sudden you're on special teams, they're not rushing, getting lackadaisical, let's get this over with, and all of a sudden you've got to make a play on your side.
Redskins radio sideline reporter Rick "Doc" Walker: Danny was one of the best at how he coached, how he taught, they were anticipating everything. A good special teams coach is always a couple plays ahead, because you've got to get units ready.
Portis: Daniel was always an intense guy. He had a mouth full of bubblegum. You barely understood what he was saying. But when you look at the Redskins, they made so many special teams plays under Danny Smith.
Vincent: Danny knew that we were better on special teams. He felt, and we all felt that week, you've got to throw out the records, that week, that game, those rivalry games, it's going to come down to a game of field position…Coach was saying that all week with that bubblegum in his jaw. He didn't know if it would occur on a punt or a punt return or a block, but all week long he emphasized we got a chance this week, guys.
Walker: I just remember thinking you've got to be kidding me. And then you hear the thump, and it's like anytime you block a kick, no one knows where the ball is, you've got to find it.
Michael: When he hit it, the sound, as well as the reaction, of Troy Vincent blocking it immediately processed something different into my head. I wasn't looking at the referees, I was looking at where did the ball go?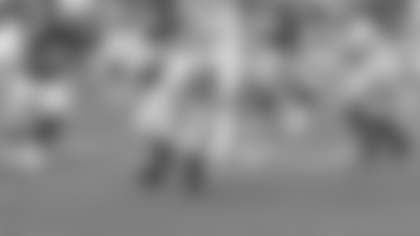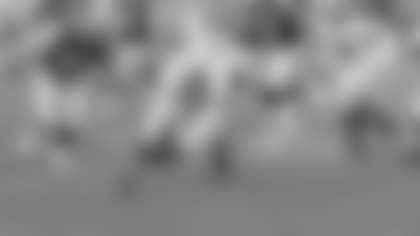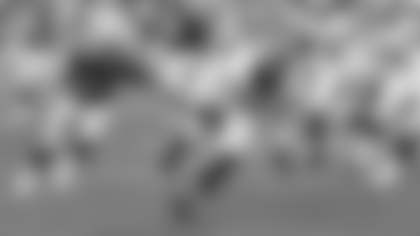 Once the ball was blocked, it scooted towards the Redskins' sideline, where, after a few failed attempts by players to gather it, Sean Taylor picked it up and began to run.
Vincent: When you think about it, Springs was on the field, you had [Numbers] 21, 24, 23, everyone's looking because there is no more offensive plays, your offense is not going to get another shot at truly scoring, it's done, it's over. Sean scoops and everyone's looking and it's not a scoop and fall on, or kneel down, this ball is live. If somebody gets this ball, everyone is thinking you gotta score or game over.
Portis: To see Troy squirt through and get his hands on the ball with the ball rolling, you're thinking, OK we're going into overtime because he missed the first scoop. All of a sudden you see Sean slide in and get the ball, and then when you see it in Sean's hands, I think a lot of people were like 'Go down,' like let's go into overtime and win the game.
Springs: I was trying to get it as well. Fortunately it bounced right to [Sean]. He made a play, and you're talking about a guy with play-making abilities. Once he got it, you knew something was going to happen.
Golston: Not only did we block it, but the one guy on the field that you wanted to get it, got it, and that was Sean Taylor because he was probably the most explosive athlete on the field and had excellent return ability.
Buck: Vincent blocked the field goal and that's like blood in the water for a shark. And then, [Taylor] wasn't going to go down either. He wasn't going to be denied.
Walker: I just remembered thinking, once he has it, nobody's going to stop this guy.
Michael: He picks up the ball and he starts moving back. My initial feeling was he's giving up ground.
Sean Taylor's Father, Pedro Taylor: He was about to take off but he had to take a U-Turn and turnaround and pick up his blocks going down the side to get up to just into field goal range.
Golston: I was on the field for the block. If you look at the old footage, I actually got a little bit of a block to spring him (Golston blocked Cowboys tight end Anthony Fasano just as Taylor turned up field). It wasn't a return it was just everybody – just no time left on the clock – just going for it.
Washington Post Columnist Thomas Boswell:This was one of Taylor's defining plays because it combined so many of his best qualities. His quickness in getting to the ball. His sure-handedness in scooping it. His sense of game-situation since he knew, with no time left, he should try to "take it to the house" since there was nothing else to do. It was a wild moment for a player who was at his best in the middle of wildness. His natural bravery in cutting back up the middle, not to a sideline, in his return. And, most of all, I think his combination of athletic talent, violent play and audacity which made other players ultra-aware of him and, because of that, they were often frozen by the sight of him or led into bad plays by the thought of him.
As Taylor turned back upfield, Cowboys lineman Kyle Kosier grabbed a piece of Taylor's facemask, which drew a flag in the midst of his run.
Vincent: If anybody watches the end zone copy of that in slo-mo, you can see the finger grab the face mask. You've got your best runner, streaking, he didn't get tackled there but it was enough to get the facemask.
Michael: I actually saw his facemask grabbed so I knew there would be an untimed down.
Springs: I was like, this has got to be destiny for us to win.
Portis: I think I did [see the facemask], but I don't remember seeing the flag for the facemask. Being in the moment, jumping up and down because they blocked the kick and didn't allow them to get that field goal. It was like, again, game going into overtime, you're jumping, wanting to grab your helmet and you kind of see Sean's head go back but it wasn't 'Oh facemask!'
Taylor: He was a former running back. He had a knack for the end zone. It was spectacular, but some coaches don't like that. Good thing he had some good teammates out there that kept playing and blocking and making the way for him to get down the field.
Walker: When you get a chance to block for someone special, it changes you as a blocker. It's like Mike Nelms, who I had, you did not want to be the person to miss your guy to stop Mike from going all the way. The guys that blocked for Brian Mitchell, no way, you take ownership when you get these special people – John Riggins, Joe Washington. When you get to block for these special guys, it's not like blocking for a normal person. It's like you don't want to be responsible for this guy not doing something great. And to see Sean go, it was all white [jerseys], never forget it.
Portis: I think if he would have stayed to the right on that play he would have scored and he cut back to the left, but if he cut back to the right he would have scored a touchdown. He had a convoy in front of him and the guys did a great job ahead of him, trying to spring him. Then all of a sudden you get those 15 yards tacked on, which put us back in field goal range.
Vincent: You tack on the penalty yardage and boom, it gives us another play. Just crazy.
Portis: We were blessed to have Sean, period. I knew what Sean was capable of, knowing Sean from college and watching Sean return punts and interceptions and big plays with the ball in hand, I wouldn't rather have the ball in anyone else's hands. When it came down to key play, I wanted the ball in Santana [Moss's], me or Sean's hands period. You just knew with the ball in hand, he's going to break tackles, and it's the field goal unit, how many people can run Sean down on a field goal unit? They did a great job of hustling those guys did, but the facemask really helped us out.
Vincent: There's just a handful of payers I played with in all my time, that you just say, damn, he's just got a knack, that guy's always around the ball, like the ball's bouncing everywhere, a tipped pass goes here, but it always seems to land with him. He was one of those individuals.
Boswell: Taylor had his youthful flaws as a player. He never got to be the finished-product Sean Taylor. I'd love to have seen what that was. But this play was one of those examples of The Best of Taylor that we did get to see. In the craziest, most unexpected play -- or one them -- that Skins fans had ever seen, Taylor knew exactly where he was, what to do and did it in a thrilling blink.
Archuleta: I think that Sean probably, if he would have been around, could have been one of the best, if not the best safety ever. I haven't seen many athletes like him, not only just his size, but how he could move, his feel for the game, in all aspects of the game down the field in coverage or just, really there was nothing he couldn't do. I played with a lot of tough guys. I would say he was probably one of the toughest, if not the toughest, guys I've played with or [played] next to.
Walker:It's almost like the guy, in such a short span, he had several signature moments. Some guys never get one. And then to get as many as he did in such a short span, we were all robbed of his greatness.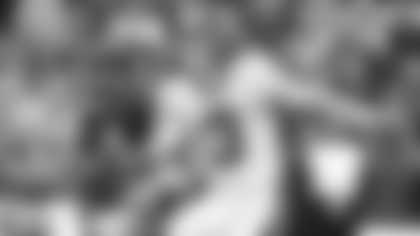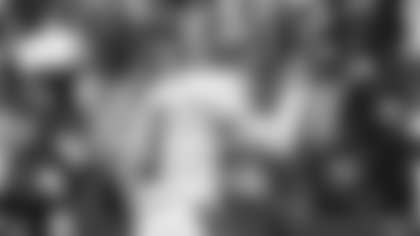 *The facemask penalty allowed the Redskins one untimed down. The 15 yards added to the end of Taylor's run gave Nick Novak a chance to win the game with a 47-yard field goal. *
Vincent: I remember after Sean was tackled, and you watch the penalty be assessed and now I'm walking off the field. You hear the crowd, the sun was just beginning to go down in the stadium and you look around and the place was just erupting. The emotion on the sidelines was, do you believe we're going to get another? We're going to get a kick. As I was walking back to the sideline to turn around and watch, it was like one of those, is this really real?
Springs: I was like, it must be karma, must have done something right in this life if you've got a chance to re-do it again.
Portis: When Nick jogged on the field for a second time, it was like, he can't miss two field goals in a row. We got this. And the momentum swung.
Kicker Nick Novak: I don't remember that first one. As a kicker, you can't dwell in the past.
Golston: I remember when Novak kicked it, it was wide. Literally by the grace of God, it hooked back in. Everybody was just ecstatic. It was just a huge victory. We were kind of in an up-and-down season at that point. That was a huge victory.
Novak: Looking back now, that kick felt like it was right down the middle. Great hold, great snap, Ethan Albright had a great snap. Derrick Frost was my holder. I just remember I looked up and it went through and the whole team was running on the field. I got Mark Brunell with his helmet up and his hair blowing in the wind – it was a still shot photo. It was amazing. I don't know why I ran towards the Dallas bench and did like a fist pump and got tackled more towards their sideline. I just…it was an amazing moment. That was the loudest I've ever heard that stadium in my experience in that stadium.
Michael: I've known Nick over the years and he's one of these guys who was raised to do this job. Didn't have the strongest leg, didn't need to have the strongest leg on that occasion. You knew he had enough leg and the place was just electric because of what had just happened and getting set for this ultimate disappointment and here comes one of your best players, makes this miraculous return of this blocked field goal, almost going all the way, you kind of knew that Nick Novak was going to come through. That was one of the greatest finishes in FedExField history.
Taylor: It was real crazy. [The fans] were very excited. They were very excited that they beat Dallas.
Smith: It was an exciting moment for a game and really exciting, obviously, for the rivalry between Dallas and Washington. Literally, the tables were turned in an instant when they were set up to win the game with a field goal and we blocked it and went the other way and kicked the game-winning field goal. It was a big win in Redskins history.
Walker: That day, to win, and I'm sure on [Smith's] wall wherever he's at, that photo was always around him, because it's a keepsake.
Springs:Couldn't have been better. That's the second best Cowboy victory that I've ever experienced.
Buck:I've always said, there's nothing that I have to say that's more valuable or potent than 90,000 fans going crazy. That can tell you – you don't need me to say it. The crowd is going nuts, you saw the ball go through the uprights, stamp it that they win and then let the crowd carry it. Be it baseball, football, whatever I'm calling, when that happens for the home crowd, there's less of a call for me. If that had happened the other way, there would've been more voice for me and more talking because the crowd goes dead. So I defer to the crowd every time. And when you've got 90,000 in the seats, there's nothing that I'm going to say that's better than that.
Golston: I just remember hearing Coach [Joe] Gibbs say, 'Hey, you work on stuff. You plan it.' And it happens the way, but it happened to get in the one guy's hand you wanted it to get into and that was Sean Taylor because I don't think anybody else would've been able to return it.
Michael: To say that field goal would be blocked, that Sean Taylor would get it, that there'd be a facemask penalty and it'd be returned far enough to put Nick Novak into position to kick the field goal. All those combinations of things had to happen to make that play the memorable it was.
Novak: Special moment, especially to beat Dallas for a Joe Gibbs team – a Hall of Fame coach. And to have been a teammate of Sean Taylor, the short time that I was able to be a teammate of him, get to know him, he was very supportive of me when I was out there…the best teams are like family. I think they have that camaraderie and that team did. It was a very tight knit group and he, even though I was a new player in 2006, he took me under his wing. Back then, I wish I could've made more field goals – I only had 10 attempts. It was a time where before that kick even happened, he knew that I could make it. The week prior to that, he was a very positive person in my life and in my preparation on a week-to-week basis leading up to Dallas. I was really appreciative of him and the conversations we had in the players' lounge.
Taylor: It was just an opportunity for something great to happen, and it happened. It was an exciting time. It was a do or die.
Walker: Every Cowboys game, it doesn't matter what the records are, because these bragging rights extend themselves throughout our community, because there are so many Dallas fans that live here. That the repercussions of defeat, you just think you can't erase it until the next game. And if you lose the last meeting, it extends all the way until next year
Vincent: If you could beat the Cowboys, they could tolerate you on some of the other losses. But the sense of beating the Cowboys, that whole Loudoun County, that whole DMV area, it was something special. All week long you're walking places. I got a parking spot for the remainder of the year. It was just one of those 'Whoa, I became part of the history of that franchise.' That's a big deal now, you get that parking spot right up front, especially for an old vet.
Novak: That's a situation I haven't seen yet again – an untimed down to have the chance to win it in a tie game. You never want to go to overtime because anything can happen. That hasn't happened yet, but there's been some crazy situations for sure that I've experienced – the game-winners that I draw from on a daily basis. That kick gave me confidence for my career going forward and especially doing it against Dallas. With the Redskins, they teach you, that's the one team we have to beat. Being a Terp, and then having the opportunity to play for the Redskins, and then play Dallas. I actually played them in '05, too – the Monday Night Miracle with Mark Brunell. And that was an awesome and amazing comeback win, too, there.
Vincent: You look at Joe Gibbs' face, that 20 seconds, the impact that that had, it was 20 seconds that etched a place in history. One of the most memorable moments in my football experience.