Redskins legendary quarterback Sammy Baugh had some great games in his 16-year career in Washington. But maybe none was better than on Nov. 23, 1947.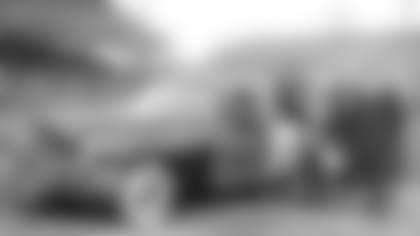 The Touchdown Club of Washington honored the quarterback with "Sammy Baugh Day," which wasn't common in football, especially for someone still playing in the autumn of his career.
The Club presented him with a brand new Packard station wagon with the words "Slingin' Sam" on the driver's door and "33" on the passenger side in front of 35,361 faithful at Griffith Stadium.
Doing research, multiple articles written claim it was a maroon station wagon, but you would have to assume it was misidentified, or that burgundy hadn't become such a synonymous term with the team at that point in time.
Regardless, Baugh, who was admittedly nervous to not let the fans down before the game, managed to expel his worries. He threw for 355 yards and six touchdowns in a 45-21 rout of the Chicago Cardinals, who at that time boasted the best defense in the league.
The six touchdowns in one game remains a franchise record.
The team finished 4-8 that season but Baugh would go on to finish with career highs in completions (210), yards (2,938) and touchdowns (25), leading the league in all three of those categories.
But just a couple days after getting his keys for his new car, Baugh was hurrying back from Philadelphia to take part in the Thanksgiving Day high school game in Alexandria, Va., in which he was to crown the queen. While driving in Maryland, a car swerved into his lane, forcing Baugh to turn into a ditch on the side of the road.
Baugh only suffered minor injuries and was able to play the next weekend, but the car's passenger doors and rear fender took a beating.
Hours after the event, a fan offered to pay for the expenses, because Redskins fans know how to treat a legend. 
Of course, what Baugh had done that previous Sunday was setting an unheralded precedent for the future of sports stars, specifically the ones that hoped to make good on a "day" named after them in front of the home fans.
You should realize this is no easy task.
Some recent food for thought:
The Wizards' Marcin Gortat scored two points on Marcin Gortat bobblehead night midway through last season.
The Yankees' Derek Jeter went 1-for-3 on Derek Jeter Day in 2014.
And what about cars presented to legendary players, and often MVP's?
It's also migrated to other major sports' MVP's. Remember the presentation to heroic pitcher Madsion Bumgarner after the 2014 World Series? Or rather, do you remember the Chevrolet man presenting a truck to him?
One thing is for sure. The car presentation to Baugh probably went a lot smoother than this.