Redskins left tackle Trent Williams was in Cleveland, Ohio, on Thursday, preparing for a preseason game against the Browns. But many miles south in Longview, Tex., he was still making an impact.
On Thursday, his mother, Veronica, presented a $25,000 dollar check, funded by the left tackle, to Longview High School, where Williams attended as a kid, in order for every athlete to receive free EKG heart screenings.
"This is home," [Veronica Williams told the Tyler Morning Telegraph](http://www.tylerpaper.com/TP-News Local/222897/trent-williams-gives-back-for-longview-hearts). "Trent loves giving back to the community here. He's a Lobo. He's going to die a Lobo. When it's involving children, that's his first love."
The screenings can be extremely important for young athletes who may have never known they had a condition if not for the free examination.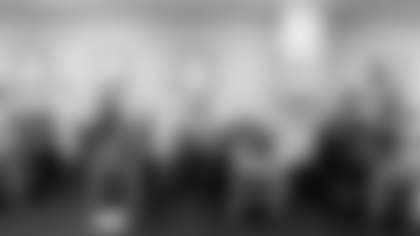 The tests give information about heart rates and other potential problems that can be exacerbated due to high stress associated with contact sports like football.
Williams was a unanimous first team all-district selection for football as a senior, leading his team to the playoffs after a 10-0 regular season. Williams also was the Lobos' track team shot putter.
Now, he's making sure more kids can ensure their own dreams playing sports in high school with a simple checkup. 
*Photo credit: Michael Cavazos, News-Journal *