As we're seven days away from the 2015 NFL Draft, The Redskins Blog takes a look at some notable seventh-round draft picks in burgundy and gold history.
Starting off with 1936, the then-Boston Redskins took fullback/halfback Don Irwin out of Colgate. His second year on the team, the franchise moved to Washington and won the 1937 NFL Championship. That year, he rushed for 315 yards on 89 carries while catching eight receptions for 112 yards.
In 1963, the Redskins selected tight end Pat Richter (pictured above) from the University of Wisconsin. Over his eight-career in Washington, Richter hauled in 99 receptions for 1,315 yards and 14 touchdowns. Currently, he's placed eighth on the franchise's all-time receiving yards list for tight ends.
Jim Kerr spent just two seasons with the Redskins after his selection in 1961, but he certainly made an impact in his brief tenure. The Penn State-product appeared in 24 games, and made eight interceptions (seven as a rookie) and one fumble recovery.
Two years after his selection in 1969, John Didion was a part of a trade that brought the Redskins one of their 80 greatest. After playing 24 games at center, he was traded to the New Orleans Saints in exchange for quarterback Billy Kilmer, who went on to become a two-time All-Pro selection with the Redskins, and has been inducted into the franchise's Ring of Fame and is among the 80 Greatest Redskins.
Possibly the Redskins' most notable seventh-round pick, linebacker Rich Milot (above, No. 57) grew to become a staple in the defense after his selection in 1979. The Penn State product appeared in 121 games – 91 starts – in his nine-year career. By the time his career ended, he had earned two Super Bowl Rings – XXVII, XXII – and recorded 14.5 sacks, 13 interceptions and five fumble recoveries. (NOTE: Tackles were not tracked then, and the NFL did not start tracking sacks until 1982, which was his fourth year in the league.)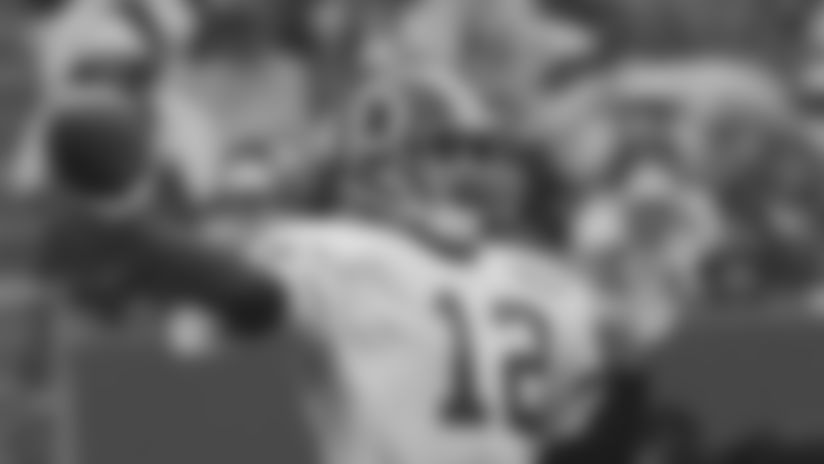 Gus Frerotte was taken seven rounds after fellow quarterback Heath Shuler in 1994, but it would be the seventh-round selection that earned the starting job. In five years as Washington's signal caller, he played in 52 games – 46 starts – and threw for 9,769 yards and 48 touchdowns. In 1996, the former Tulsa Hurricane was a Pro Bowl selection.
Cornerback David Terrell appeared in 61 games – 32 starts – for the Redskins following his selection in 1998. In four seasons, he recorded six interceptions, eight pass deflections, recovered five fumbles and made 136 tackles.
For much of his tenure, 2002 seventh-round pick Rock Cartwright split time in the Redskins backfield with the Clinton Portis, but his impact was still felt, especially on special teams. In 2006, the Kansas State-product set the franchise record for single-season kickoff return yards with 1,541 yards on 64 returns. As a running back, he recorded 889 yards and six touchdowns on 215 carries.
This year, the Redskins will pick the 222nd-overall selection located in the seventh-round of the draft. Tune in to see if they uncover yet another diamond in the rough.