For the record, I have no idea who Joe Mercer is, except for what his Twitter profile reads.
"Author, albino ninja, trainer of cat sharks, lover of Redskins football, author, father of a redhead princess, Batman enthusiast, breather of air."
If all of this is true, which let's say it is, Joe Mercer has diverse talents, the right taste in football teams and is just a normal person like any one of us. He breathes air, and so do I, and so do you.
I'm really intrigued by the albino ninja skills, and also the fact that he lists himself as an author twice, just in case we forgot.
It's curious because he's recently begun building a bar in his basement, and with the Irish memorabilia propped on shelves, you would have thought that snuck into his Twitter bio.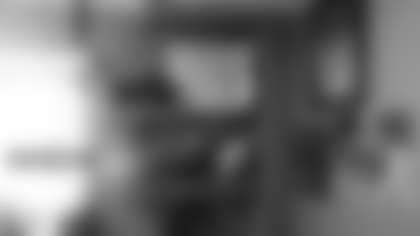 What's important is that Redskins gear takes center stage in every corner, whether it's a Sean Taylor jersey (overlapping a Wayne Gretzky one), a helmet, a football, a sign, a fridge magnet, an ice bucket, a folded Robert Griffin III jersey and what appears to be an autographed football.
No posters of any ninjas, albino or otherwise, line the walls, however an England rugby ball, a Canadian flag and Hartford Whalers jersey are somehow matched together.
So can we definitively say who Joe Mercer is after examining the precious man cave of his house?
Catsharks are real fish, so if he really trains them…the only thing I can definitively say about Joe Mercer is that he is a Redskins fan, and that's all that really matters in this current scenario in which I show you how one fan has decided to create a bar in his basement and decorate it with Redskins gear.