Through each of their first three games, the Redskins have shown flashes of greatness, but they have able been unable to sustain that effort for a full 60 minutes. Facing off against their third division opponent in four games on Sunday, the Redskins will look to put together a complete game in all three phases.
"We just have to put it together more consistently and that is what we have been preaching the last couple of weeks," said head coach Jay Gruden. "Just trying to find ways to become more consistent and avoid those spells where we have terrible quarters or terrible half quarters where we give up 14 points and can't get out of the rut."
In Week 2, the Redskins led the Philadelphia Eagles 21-7 at halftime but struggled to score and get stops in the second half in a 32-27 loss. Week 2 was a similar story when they trailed the Dallas Cowboys 14-7 at halftime and ultimately lost 31-21.
Monday night's game against the Chicago Bears was a flip of the script, as the team struggled in the first half and played a much stronger second half in a 31-15 loss.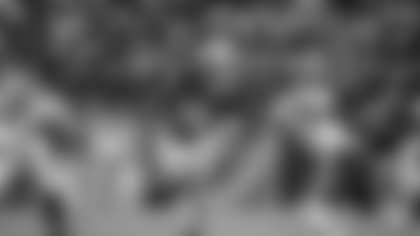 "[Feeling] disbelief because we have so much talent and this is the third week in a row that we're just sitting here like 'God,'" said running back Adrian Peterson. "You know, [if] we can just get it going for four quarters...we have a really good team."
The offense has been at its best when there is a balance between the run and pass game. Protecting the ball and limiting negative plays will also be key to continuing drives throughout all four quarters. Penalties against the Eagles and Cowboys halted drives, while turnovers were the glaring issue against the Bears.
"I felt like we started getting rolling as an offense, we just gotta find a way to just capitalize on those opportunities," said running back Chris Thompson.
"The key to finding consistency is starting fast, taking care of our assignments and playing together, making sure the camaraderie is there throughout the entire game," added tight end Vernon Davis.
The Redskins defense flashed its potential by shutting out the Eagles for the first 25 minutes of and limiting the Bears to three points in the second half. However, the team must do a better job in third-down situations. Redskins' opponents have converted a league-high 63% of their third downs. The Giants, who have an offense ranked 24th in the NFL and convert just 30.6% of third downs, present a golden opportunity for improvement.
"You can look at the film, we're playing good in spurts and that is the positive," said linebacker Jonathan Bostic. "For me, as a competitor, it's not good enough for this defense, and they can say the same. It's not good enough."
The defense's struggles to find consistency is certainly not due to a lack of talent with leaders such as cornerback Josh Norman and safety Landon Collins in the secondary. Outside linebacker Ryan Kerrigan, who has 11.5-career sacks in 16-career games against the Giants, and defensive tackle Jonathan Allen serve as the leaders up front. Improved communication from all three levels of the defense will likely lead to better execution Sunday.
"We have the talent in there," Kerrigan said. "I truly believe in the personnel that we have on the coaching staff and on the roster. We just have to put a complete game together. We just got to find a way to just play consistently for four quarters."